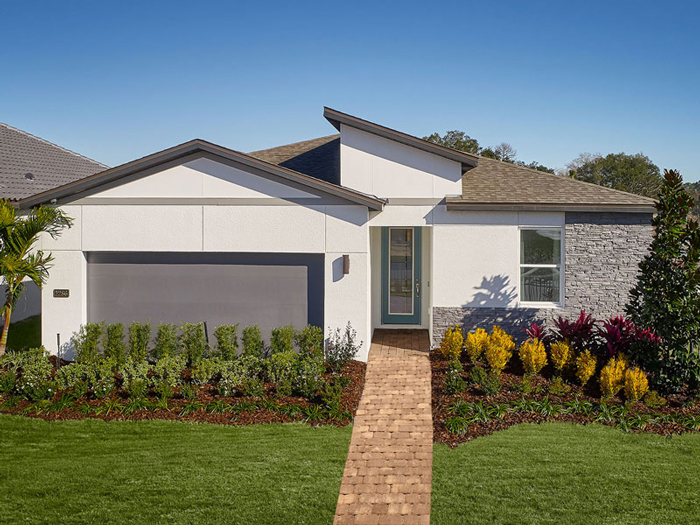 The single-story Pomelo boasts an open kitchen and living area as well as a large, tucked-away master suite in a floorplan that gives buyers plenty of flexibility.
THE POMELO APPLIES MERITAGE HOMES' FORMULA FOR SUCCESS
Since 1985, Meritage Homes has prided itself on "building better, smarter, healthier homes through game-changing, money-saving energy efficiency, thoughtful design and higher building standards."
Those words are prominently displayed on the company's website. And for Meritage, those words are more than just a slogan — they describe the company's culture.
Evidence of that commitment can be found in the company's Pomelo floorplan. The Pomelo is a single-story home that showcases an open design with lots of flexibility.
For example, the gourmet kitchen overlooks a spacious great room and covered lanai. And the flex space can be made into a fourth bedroom or a private office, while the tucked-away master suite, located at the rear of the home, is an ideal retreat with a spacious walk-in closet and master bath.
The Pomelo is priced starting at $322,990 for up to 2,185 square feet with four bedrooms, three full bathrooms and a two-car garage.
Energy efficiency is exhibited in such features as weather-sensing irrigation, dual-actuated toilets, Energy Star-certified appliances, low-emittance windows and spray foam insulation, among other components.
The environmentally conscious approach is thoroughly integrated into the design and construction, typically making many Meritage homes twice as energy efficient as a typical U.S. home of the same size.
Mostly, though, the Pomelo's appeal is its open floorplan, where the front porch leads to an ample foyer that extends to an oversized kitchen and dining area.
These gathering spaces are bordered on one side by a great room and covered lanai, and on the other side by an owner's grand retreat. The great room measures more than 13-by-21 feet. The master suite measures more than 13-by-16 feet — not counting the master bath area.
Openness plus flexibility plus efficiency, minus nothing. It's a formula for success at Meritage — particularly for the Pomelo model.