Las Colinas at Mission Inn Resort & Club, which hugs the iconic Gary Koch-designed golf course, offers single-family homes that are priced starting at $462,000. Amenities include the golf course, designed and built in 1992.
Fertile Ground for Growth
Roots continue to deepen and spread for housing in Lake County.
When it comes to housing in Lake County, a historical commitment to agriculture is, in fact, written into the county's laws. However, the laws of real estate are altering that commitment. And the dynamics involved encompass much more than location.
The result: Land that once encompassed cows, dirt roads, hills, lakes and, of course, citrus, now is transforming into homes. Lots (no pun intended) of them.
Just look at the numbers. Lake County is ranked among the three fastest-growing counties in Florida, with a projected growth rate of 23 percent by 2030. Its population has almost quadrupled since 1981 to more than 400,000 people.
During part of that time, from 2012 to 2017, the county lost roughly 5 percent of its farms, and since 2008, it's lost nearly 8 percent of its agricultural acreage. That means although Lake is still a Top-10 producer of agricultural goods statewide, it's losing ground — figuratively and literally.
There are other telling numbers, too. For example, as Orlando land prices continue to rise, with the metro area inching ever so steadily toward buildout, new development is edging west into Lake County.
Not coincidentally, housing demand is strong. Consider that in August, home prices in Lake County were up 16.8 percent compared to August 2021. Meanwhile, its millage rate (amount of property value used to calculate local property taxes) is among the lowest in the region.
Lake County officials tout the phrase "Real Florida. Real Close." And it's true that the county is only about a 35-minute highway drive from downtown Orlando and not much farther from coastal beaches. In addition, Lake County is within 60 miles of international or executive airports, and three major seaports are just 90 minutes away.
Then there's the scenic value of the county, which boasts acres of parks, plentiful lakes and rivers and picturesque hills. Yes, hills, in ultra-flat Central Florida.
Nature-lovers will find an abundance of options — like hiking through endless acres of preserves, viewing rare birds or paddling pristine blueways. Anglers will be lured by the prospect of catching a trophy bass on one of more than 1,000 freshwater lakes, while treasure hunters will enjoy finding that rare antique at the county's many unique downtown districts.
Unsurprisingly, "Real Florida. Real Close" has brought real growth to Lake County and its distinct 14 municipalities. New housing is almost everywhere, with builders routinely using superlatives such as "most" and "prime."
"We have the pleasure of building new homes in the fast-growing footprint of Lake County and see no slowdown in demand," says Laurie Tarver, vice president of sales and marketing with Park Square Homes, as she introduced the company's latest phase at Summerbrooke earlier this year. "Mount Dora is quickly becoming one of the most sought-after addresses in Central Florida."
Similarly, speaking about Landsea Homes' new community in Eustis, Nichola Mitchell, vice president of sales and marketing for the builder's Florida division, uses these words: "Lake Lincoln is a charming community of new single-family homes located in a prime area of Lake County."
Eustis, she points out, is just 40 minutes from Orlando, providing a "restful landscape while still offering accessible big-city amenities." And keep in mind, Mount Dora and Eustis aren't even the county's hottest spots.
That distinction goes to the southeast portion of Lake County, formerly known as the South Lake Sector Planning Area and now called Wellness Way. It measures approximately 15,500 acres on the edge of Clermont and bordering Orange County.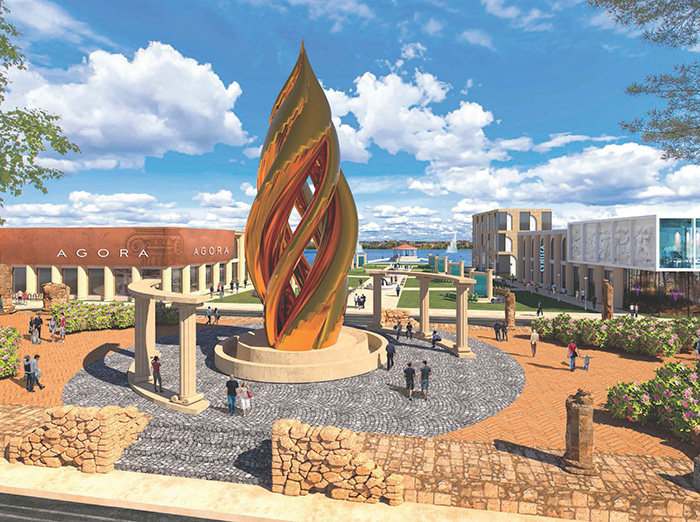 Budding South Lake
There, at the center of the activity, is master-planned Olympus, a 243-acre community located to the west of U.S. Highway 27 and 4,372-acre Lake Louisa State Park. The land, annexed by the City of Clermont in 2019, is fully entitled for more than 1,000 residential units and 1 million-plus square feet of retail, office and commercial space.
And how's this for growth potential? Olympus is projected to have a $1.4 billion local economic impact over the next 10 years or so, and to generate more than 5,000 jobs. In June, for example, Healthcare Trust of America Inc., the largest dedicated owner and operator of medical office buildings nationwide, unveiled plans for a $100 million health campus.
Olympus is designed as a platform for business innovation and economic growth — a smart, connected wellness community and global sports and entertainment destination with "zones of excellence" centered in and around a vibrant Town Center.
Apart from Olympus, Clermont was already considered the "World Triathlon Destination" because its distinct elevation changes and gently rolling hills lend themselves to exceptional triathlon courses. The National Training Center in Clermont is the county's premier venue for triathlon training.
The state-of-the-art facility attracts Olympians and world-class athletes from all over the country to train year-round on Clermont's runner- and biker-friendly terrain. South Lake has also been the location for numerous state and national sports championships such as Softball State Championships.
But South Lake County isn't only for the serious athlete. Casual hikers, birders and romantic vacationers are drawn to Lake Louisa State Park, where cabin rentals overlooking Lake Dixie are available for a weekend getaway. Equestrian, camping, canoeing and kayaking are just some of the many activities available for those needing to escape and become one with nature.
South Lake County also is home to Sugarloaf Mountain, the highest point in peninsular Florida, and the nearby Green Mountain Scenic Overlook and Trailhead in Ferndale, which boasts a boardwalk with views from the 130 feet above sea level.
For another unique view, families can take a trip to the top of the Citrus Tower, an observation deck offering a 360 degree view of eight counties. At the base lies the Presidents Hall of Fame, featuring a White House replica and an expansive John F. Kennedy collection.
Looking to unwind? Take a trip to Lakeridge Winery and sample wines made from locally grown Muscadine grapes, or head over to Showcase of Citrus and take an eco-tour on the back of the world's largest ATV.
As for housing, Ridgeview continues to rise near Olympus off U.S. 27 between S.R. 50 and U.S. Highway 192, with its entrance across the street from Lake Louisa State Park. Community amenities include a resort-style pool and cabana area, a playground and open green spaces as well as sweeping views of 103-acre Trout Lake.
At Ridgeview, Pulte Homes is offering its Signature Garden Series and Select Classic Series, with homes that measure 1,662 to 2,894 square feet. (Pulte requests that prospective buyers call for pricing.)
The two-story Hamden model, part of the Signature Garden Series, features two bedrooms plus an owner's suite upstairs. The Whitestone, part of the Select Classic Series and the largest model, has a first-floor owner's suite and a spacious loft.
Landsea Homes, which bought Hanover Family Builders earlier this year, has 14 available plans at Ridgeview. The smallest is the four-bedroom, two-bathroom Selby Flex, which offers 1,819 square feet and is priced from $486,999. The largest is the Palmer Executive (five bedrooms, 3.5 bathrooms), which measures 4,417 square feet and is priced from $655,999.
Reportedly, Lennar Homes and Beazer Homes also are poised to build at Ridgeway. Lennar has an approved project for 1,850 single-family homes. Beazer has 341 homesites earmarked for new construction.
Not far away is Hartwood Landing, Dream Finders Homes' newest community in Wellness Way. Hartwood Landing sits on the southwest corner of Hartwood Marsh Road and the future Hancock Road Extension. The community consists of 40-, 50- and 60-foot homesites and includes 13 models, priced from $426,990 to $650,990 with sizes ranging from1,654 to 4,170 square feet).
Impressive, indeed. Yet, as Tarver of Park Square Homes asserted, there's much more to Lake County than merely one fruitful area.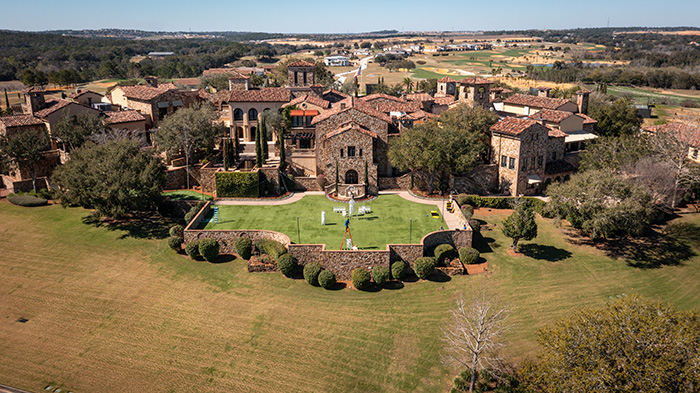 Blooms Abound
Park Square Homes' Summerbrooke, situated two miles from historic downtown Mount Dora, features eight single-family floorplans and 166 homesites.
With prices starting in the $300s, Summerbrooke offers one- and two-story homes with sizes ranging from 1,525 to 3,075 square feet. Homes range from three bedrooms and two bathrooms to five bedrooms and three-and-a-half bathrooms.
And, for the record, that previously mentioned Lake Lincoln community in Eustis by Landsea Homes encompasses 121 single-family homes with a variety of floorplans that range in size from 1,635 to 3,198 square feet. You can choose models with three to five bedrooms or two to three bathrooms. Each home features a lanai and pricing starts in the low $300s.
Notably, Eustis (which, along with Mount Dora and Tavares, make up the county's so-called Golden Triangle) is an especially hot spot, with more than 1,500 housing units planned or in construction. But what else is new or about to happen in Lake County? Plenty — starting with something old that is being renewed.
Years ago, Bella Collina — located on Lake Apopka — was first developed as an exclusive lakefront and country club community in Montverde. It hadn't, however, quite lived up to its billing. Until now, that is, thanks to Toll Brothers.
Toll Brothers at Bella Collina includes one- and two-story, single-family estate homes surrounded by 1,900 acres of picturesque lakes and verdant hills. Home sizes range from 4,296 to more than 7,000 square feet and feature Coastal, Palm Beach, Mediterranean and Transitional exteriors with prices starting at $1.1 million.
A championship golf course — designed by Nick Faldo — and an iconic 75,000-square-foot Tuscan-inspired clubhouse, which sits atop one of Florida's highest points, highlight the community amenities.
Bella Collina's revival speaks volumes about Lake County's growing appeal as a place to live. And the same goes for this sampling of other activity (not a comprehensive list).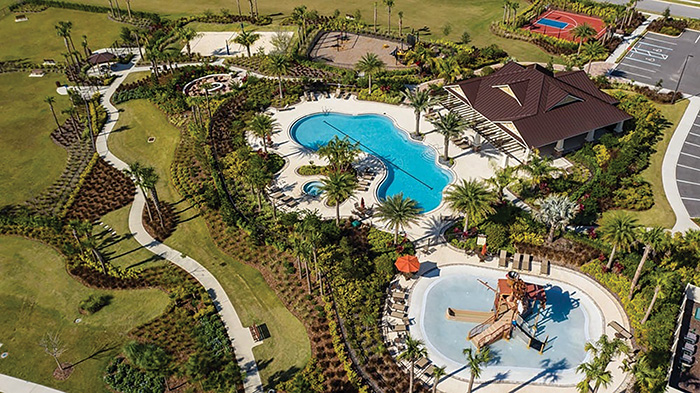 Clermont
At John's Lake Landing, David Weekley Homes is building its Cottage Series, with homes from 2,052 square feet in size and up to $722,605 in price. The community features a 2,400-acre lake for boating, water skiing and fishing. Other amenities include a pool, a cabana and a playground.
The Canyons at Highland Ranch, a community by Taylor Morrison, offers homes up to 3,929 square feet in size and $821,115 in price. Highland Ranch is close to A-rated Lake County public schools, shopping, essential services, recreation and entertainment. Another popular model is the Waterbrooke, by Mattamy Homes, which ranges in price from $388,990 to $713,990.
Among the community amenities at John's Lake Landing are a swimming pool and cabana, a yoga lawn, a fitness center, a splash pad and a tot lot as well as substantial open green space.
Groveland
Bellevue at Estates at Cherry Lake is a collection of homes offered by Lennar. There are 128 homesites on and around quaint Cherry Lake, with home prices ranging from $341,566 to $404,456. The smallest home measures 1,555 square feet; the largest measures 2,582 square feet.
Both Landsea Homes and Lennar are building in sections at Trinity Lakes, with its lakeside park, pool, playground and clubhouse. Homes by Landsea range in size from 1,509 to 2,903 square feet and are priced from $334,999 to $445,999. Six plans are offered.
Lennar has its Manor, Estate and Executive collections, ranging in price from $316,990 (Manor, with 1,461 square feet) to $566,620 (Executive, with 3,385 square feet).
Bellevue at Estates at Cherry Lake is near Downtown Festival Park and Cherrylake Farms, a self-sustaining tree farm and nursery. And Groveland is only a 40-minute drive from the theme parks and downtown Orlando.
Howey-in-the-Hills
Las Colinas at Mission Inn Resort & Club, by Park Square Residential, exemplifies staying power. Mission Inn is time-honored, dating back to 1964; Las Colinas represents new growth that starts at $462,000 for single-family homes (three bedroom, two bathrooms) ranging in size from 1,968 to 2,138 square feet. There are two available plans, Villa One and Villa Two.
Amenities include the community's venerable golf course. Designed by Gary Koch and built in 1992, Las Colinas (Spanish for "the hills") is an 18-hole championship course that offers quite a different challenge from El Campeón, its companion course.
The course's signature hole is "Alligator Alley," the par 5, 12th hole that spans 493 yards along a tree-lined fairway and requires absolute accuracy from tee-to-green.
No discussion of Howey-in-the-Hills is complete without a description of Mission Inn, the resort, which is a prime Central Florida location for golf vacations, dream weddings, romantic getaways and corporate events.
The resort traces its history back to 1916, when William J. Howey purchased 60,000 acres of real estate with the intent of creating the largest horticultural empire in the world.
With an ideal climate and rich soil, Howey envisioned investors buying acreage from him and then contracting with his company to clear the land, plant citrus trees, harvest and ship the fruit. Howey would then return the profits to the owners.
In order to boost sales and create incentive for additional growth, Howey set out to build a golf course to complement his inn. In 1917, Chicago's George O'Neil was hired to design the course and soon after the Florida Chain-o-Lakes Country Club opened.
Boasting rare tee-to-green elevations of 85 feet, towering forests, and sparkling spring-fed lakes, the course was widely acclaimed as Florida's finest. But after the stock market crashed in the late '20s one of the worst freezes in Florida history combined to end Howey's dreams of a citrus empire. The property limped along as the Floridan Country Club but was struggling by the '60s.
In 1964, Illinois native Nick Beucher — who had begun as a salesperson for the Morton Salt Company but became a successful businessperson buying and selling cattle by-products — saw an ad in the Wall Street Journal offering to sell a country club in Howey-in-the-Hills.
He bought it, and the rest was local history. In 1969, after renovating the golf course and clubhouse, Beucher turned his attention toward creating a new resort using Spanish Colonial architecture.
Through the years, the resort has expanded to include a second golf course, freshwater fishing, a full-service spa, three restaurants and 30,000 square feet of group space for meetings, weddings and special events. Today Beucher's children and grandchildren own the resort.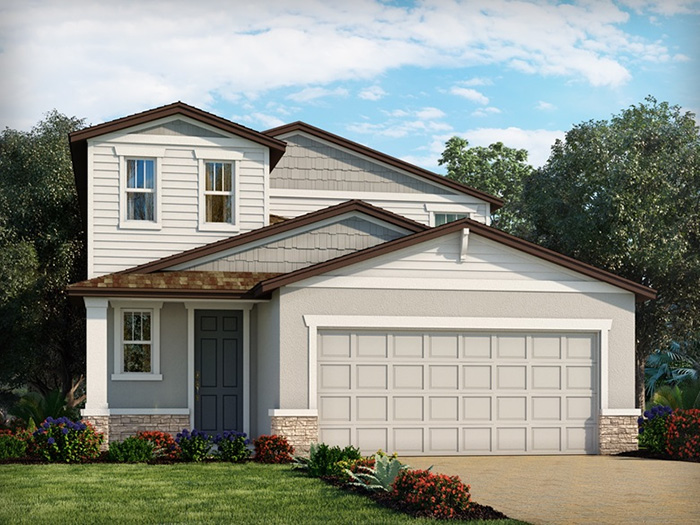 Leesburg
Particularly family oriented, Leesburg's Hamlets of Tavares, built by LGI Homes, encompasses a tot lot, a picnic pavilion, a fenced-in dog park and miles of walking trails. Prices start at $269,900 for homes that range in size from 1,574 to 1,817 square feet. Three models are available.
Seasons at Park Hill, by Richmond American Homes, offers easy access to water recreation, nature trails, golf courses and the Sleepy Hollow Sports Complex. The base home price is in the upper $200s for eight floorplans of approximately 1,610 to 2,530 square feet with two to five bedrooms. Prices range up to $459,000.
Lake Denham Estates, by Meritage Homes, has one- and two-story homes priced starting at $288,990 for three to four bedrooms with sizes ranging from 1,269 to 2,168 square feet. There are five floorplans: the Denali, Everglade, Olympic, Rainier and Yellowstone.
The community has a tot lot, a pool and cabana, and a yoga area. Lake Griffin State Park is nearby. The 620-acre park is a welcoming place for anglers or birders who may want to rent a canoe or a kayak to explore Lake Griffin's marshes. Epic Water Boat Tours offers guided pontoon boat tours. Plus, you can see the state's second-largest live oak tree.
Mascotte
KB Homes has big plans for The Gardens at Lake Jackson Ridge II, including oversized homesites, a tot lot and outdoor fitness stations to complement the abundant assets at nearby Lake David Park, Palatlakaha Park and Waterfront Park.
Seven one- and two-story plans sized from 1,541 to 3,016 square feet (three to six bedrooms) are available, with prices ranging from $307,990 to $396,990.
Mascotte, named after a ship that frequently made the trip between Cuba and South Florida on a regular basis during the Spanish-American War-era, is about as close to the state's geographic center as it's possible to get.
Minneola
The Reserve at Lake Ridge, by KB Home, offers homes priced from $404,990 to $537,997. Sizes are up to 3,203 square feet with six bedrooms. Like so many others, the community is convenient to U.S 27, Florida's Turnpike and S.R. 50.
Villages at Minneola Hills, with a Signature Series by Meritage Homes, touts easy access to major employment centers and great schools. Homes are priced starting at $405,990 for up to 3,532 square feet with five bedrooms, four bathrooms.
Beazer Homes' Grove Series at Park View at the Hills offers homes priced from $444,990 to $554,990 for up to 3,170 square feet. The largest model, the two-story Newbury II, features a first-floor primary bedroom and a rear covered lanai.
The community's website notes: "This could be the new Dr. Phillips or Winter Park without insane traffic, amusement parks, and roaming tourists."
Mount Dora
Lennar is building a collection of new homes at master-planned Stoneybrook Hills. Stoneybrook Hills — Magnolia Gardens encompasses 64 homesites and five floorplans that range in size from 2,421 to 2,941 square feet. Prices range from $468,490 to $505,490.
Community highlights include a playground, a pool, a clubhouse, a baseball field, and courts for basketball and tennis. A big selling point is the community's location just 15 minutes from historic downtown Mount Dora, which is one of the coolest small towns in Florida. It was named by Money magazine as one of three "Best Places to Live in America."
Mount Dora is home to one of three freshwater lighthouses in Florida and is known as the "Festival City" for its plethora of activities, including an annual Mount Dora Arts Festival.
Tavares
At Avalon Park Tavares, Stanley Martin Homes offers 10 one- and two-story floorplans priced from $319,577 to $365,550 and ranging in size from 1,426 to 1,839 square feet (with three and four bedrooms).
At 155 acres, Avalon Park Tavares provides a nestled, serene landscape that's highlighted by treelined streets and multiple waterways, along with emerging neighborhood amenities that will include a pool, a cabana, a nearby marina and a splash park.
Downtown Tavares has an entertainment district encompassing an international assortment of restaurants, pubs and music venues. You'll also enjoy Wooton Park, home of the
Tavares Seaplane Base, where you can enjoy a seaplane ride or take a boat tour.