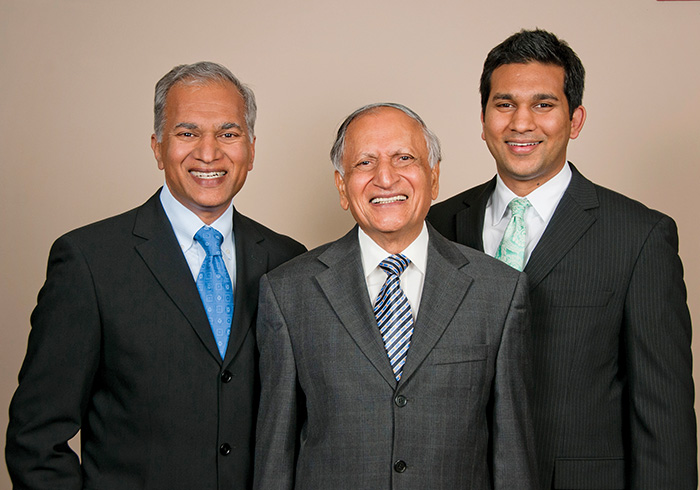 At Park Square Homes, it's "built by family, for family." Since 1984, three generations have grown the company into one of the most respected independent residential and resort developers in Central Florida. The family includes Suresh Gupta (left), Braham Aggarwal (center) and Vishaal Gupta (right).
A diverse portfolio has Park Square Homes at the top of it's game
During the almost 40 years that Park Square Homes has been building communities throughout Central Florida, the company has never lost sight of its original mission.
"Truly, our vision has always been to help others achieve the American dream of owning their own home, and we've been fortunate to help thousands of people achieve that goal," says Suresh Gupta, Park Square's CEO.
Gupta was born in Mombasa, Kenya, and attended college in the United Kingdom, where he earned a degree in accounting before arriving in the United States in 1984.
He saw opportunity in Central Florida and started a homebuilding business with two partners, one of whom was his father-in-law, Braham Aggarwal.
Today the family business includes grandfathers, fathers, sons and grandsons — an American dream of a different sort, perhaps, but nonetheless an American dream.
Gupta and Aggarwal are still at the helm, with a team that includes Vishaal Gupta, who is the co-CEO and Gupta's son (as well as Aggarwal's grandson). Other team members include Steve Parker, COO, Monika Goyal, CFO, and a staff of experienced professionals.
Known for its portfolio of diverse home styles, Park Square caters to a variety of tastes, budgets, lifestyles and age groups. The company builds everything from starter homes to grand estates.
"We believe that variety is one of the secrets to success," says Vishaal Gupta. The company's focus has been in Central Florida, but with an eye toward expansion. "We're looking at the possibility of extending our Central Florida footprint to both coasts," notes Gupta.
Among Park Square's new projects are two communities in Winter Garden where sales are expected to start soon, and Paradiso Grande, a resort community in Orlando off International Drive that offers easy access to the attractions.
Described as a luxury destination, Paradiso Grande will offer homes ranging in size from 2,913 square feet to an impressive 6,374 square feet, with five to 15 – yes, 15 — bedrooms and five to 15.5 bathrooms. The single-family homes are priced starting at $964,990.
Complementing Paradiso Grande's vacation-style amenities is the community's Aquarius Clubhouse, which features a swimming pool and lazy river, a game room, a café and a fitness center.
To help future homeowners navigate the buying process, Park Square recently introduced its New Home Store, located at its Orlando corporate office. Currently, the store is showcasing four communities.
"Think of it as a one-stop shop experience for every aspect of the new home-buying journey," says Vishaal Gupta. "With this streamlined approach, buyers can meet with a new-home counselor one on one and see all of their options virtually."
The New Home Store is next door to the company's Design Studio, where buyers can see and touch a myriad of finishes and design options.
On another note, Gupta says the company is rebranding and expanding its commercial real estate division, newly named Kimaya, which will offer everything from multifamily residential and hotels to shopping centers and will provide a ground-up solution for mixed-use development.
On the drawing board are several build-for-rent developments throughout Central Florida. These projects, Gupta says, will offer a creative solution to the region's housing shortage.
The first community, Champions Chase in Polk County's ChampionsGate, will offer townhomes available for lease later this year.