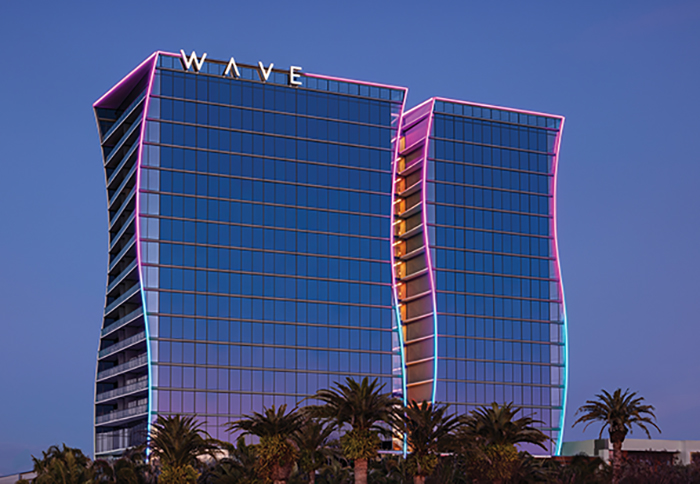 The Wave Hotel's 17-story undulating exterior of curved glass — inspired by a wavelength of energy — is itself a work of art. But art also infuses the indoor spaces and sculpture garden.
CATCH THE WAVE
Lake Nona Wave Hotel, the latest addition to the Tavistock Hotel Collection's portfolio, opened its doors to the public in Central Florida's fast-growing "smart city" in late 2021.
The Tavistock Group, an international private investment organization, is also developing Lake Nona — an east Orlando master-planned community known for its leading-edge home designs, high-tech bells and whistles, world-class sports facilities, burgeoning health sciences campus and an iconic golf and country club.
Now it's also home to one of the coolest hotels in the region. Typical for Tavistock, its Hotel Collection is known for signature facilities with innovative architectural designs — and the Wave Hotel doesn't disappoint.
The 17-story undulating exterior of curved glass — inspired by a wavelength of energy — is sophisticated and innovative. (The architectural design firm, Arquitectonica, is also behind the Lake Nona Resort, the eight-story performance and wellness resort situated along the southern shores of Lake Nona.)
On the inside, that sophistication and innovation is carried forward in the hotel's 234 guest rooms, which feature tech-forward amenities such as in-room apps to control the environment and View Smart floor-to-ceiling windows.
At this writing, the hotel is the largest in the world equipped with smart-tech glass, which uses artificial intelligence to automatically adjust glass tint depending upon weather and lighting conditions.
But while many of the technological innovations are hidden, the hotel's monumental art collection is right out in the open.
Beyond the guest rooms, the centerpiece of the hotel is the Living Room Lobby, where your art-centric journey begins. This area alone is decorated with some 300 pieces of curated art. (there are at least 500 pieces throughout the entire property. )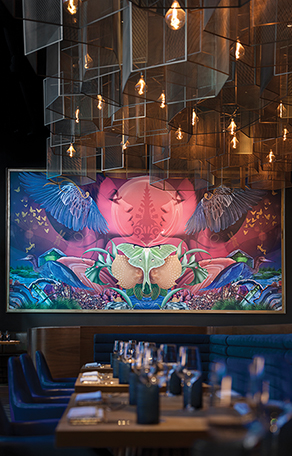 Whether it's during an after-work drink at the Living Room Bar or a delicious dinner at Bacán — one of the hotel's two signature restaurants — locals are welcome to visit and take it all in. You can't help but get a jolt of creative energy just by osmosis.
"Every corner here is meant to inspire and create new energy," says Jessi Blakely, vice president of strategic communications for Tavistock. "While we've received national attention, it's one of Orlando's best kept secrets — but one that's important to share with the community to enjoy."
Not unlike the Alfond Inn in Winter Park, The Wave Hotel could be considered a sort of art museum in and of itself — and art is everywhere you look. Even elevator banks, for example, feature fully wrapped cabs.
But the words "eclectic" and "vibrant" don't adequately describe the hotel's unique ambiance. Tavistock founder and chairman Joe Lewis, a
British-based investor, told Amy Parry, the hotel's art consultant, that he wanted guests to be surrounded by works that are "fun" and "make people happy."
Mission accomplished. One of the first pieces you'll see when entering the Living Room Lobby from the hotel's main entrance is a large vintage-type couch turned up on one of its ends, as if it's about to be hauled out by movers.
The oddly positioned sofa, juxtaposed against colorful modern furnishings by the likes of Eero Saarinen, Warren Platner and Marcel Wanders, is both amusing and eye catching.
The hotel's robust technology facilitates a 360-degree immersion experience. A kinetic geometric sculpture and lighting by Melissa Borrell hangs over the Stadium Seating Area, which also serves as the staircase to the mezzanine level.
Just off the Living Room Lobby is one of the hotel's two signature restaurants, Bacán. Upon entering, it's hard to miss the striking 10-by-20-foot vinyl mural overlooking the dining area by artist Amy Rader, who was recently selected to represent Tesla and Microsoft at Art Basel in Miami.
The lush piece, dubbed Pacha Mama by some of the staff, is a nod to Florida's tropical environment and, if you look closely, also to The Glass House installation near Lake Nona's Town Centre.
The hotel's interior design firm, Blue Lantern Studios, tapped Parry to curate a package that features works of independent artists from around the world to complement their interior design.
Parry pieced together the Living Room Lobby's 300-plus works of art — specifically commissioning some, doggedly hunting down others — as well as other pieces found throughout the hotel over a period of 18 months.
The journey was a fruitful one, filled with whimsy, creativity and innovation.
Take, for example, the resin bear holding a balloon. The fanciful piece was the result of a brainstorming session between Parry and one of the designers about what they could find for a larger space that they had yet to fill.
Says Parry: "She suggested a gummy bear, but we needed something large and substantial, so we ended up having one designed and fabricated to meet our specs."
Another large space they had to fill was on the wall next to the Living Room Bar. The work of Canadian contemporary artist Sarah Gee Miller, whom Parry discovered several years ago on Instagram, came to mind as an ideal solution.
"I've always loved her work," notes Parry. "And when we had an opportunity to commission a large-scale piece, I contacted her immediately."
The resulting layered 20-foot-wide mural, comprised of five panels with laser cuts through which colors of the rainbow can be seen, is now one of Parry's favorites.
Lewis, who owns one of the largest private art collections in the world, also had a hand in the selection process. He took a particular shine to an image of a bicycle with billiard balls in the basket, which Parry had found on Etsy.
"I remember thinking 'I hope he doesn't like this one because I don't know if I can find it again,'" says Parry. "Well, he loved it!" And sure enough, Parry couldn't find the piece again — but she had a similar one fabricated based upon the image.
By design and thoughtful consideration, art abounds at the Wave Hotel, beckoning in every nook and cranny. Among the hotel's treasures are the pink dogwood tree next to the Living Room Bar, the "wave of birds" ceiling sculpture in the Ballroom Foyer and the 18 "artistic suites."
As Parry says: "There are lots of twists
and turns — you never know what you'll encounter."