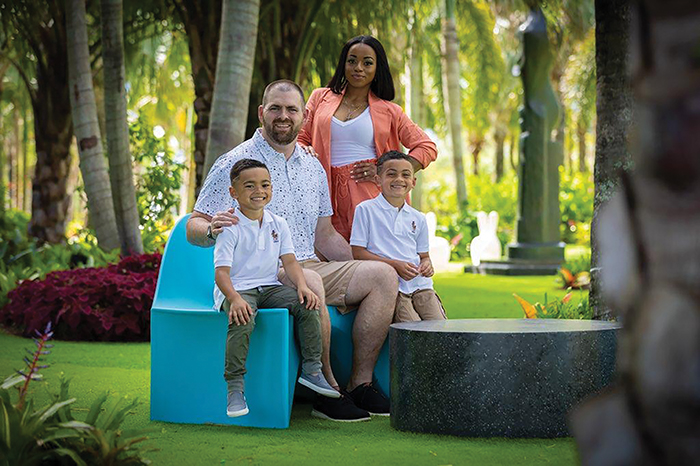 Ryan and Edina Houston are awaiting completion of their new home in Laurel Pointe. They chose the Barbera by Toll Brothers (facing page), which is part of the company's Collage Collection. The Barbera, at 4,413 square feet, has a choice of elevations as well as five bedrooms and four to five bathrooms. The home is priced starting at $1,089,995.
THOUGHTFUL APPROACH
LAKE NONA'S NEW NEIGHBORHOODS OFFER VARIETY — WHICH IS KEY TO THE ICONIC PROJECT'S ENDURING APPEAL TO BUYERS.
File this housing story under "The more things change, the more they remain the same." Nearly 20 years after Lake Nona's first home was purchased, buyers keep on coming, including Ryan and Edina Houston at one of four new single-family neighborhoods across Lake Nona's 11,000 acres and 17 square miles in southeast Orlando.
Last November, on the day after Thanksgiving, the Houstons became the first buyers at Laurel Pointe, an intimate, gated community of 124 single-family homes with water and preserve views.
One- and two-story homes — ranging in price from the mid-$900s to $2 million-plus — include three to seven bedrooms in 3,000 to more than 5,800 square feet.
Models by the builder, Toll Brothers, didn't open until this August — but the Houstons didn't hesitate sight (and site) unseen. In the past, they had regularly visited Orlando as Walt Disney World annual passholders — and decided to move permanently post-pandemic.
"We didn't want to wait," says Ryan, a Realtor. "We wanted more space and flexibility, and we liked the floorplan. It's also brand new. We like building instead of going into something that was already established." Wife Edina, also a Realtor, owns EDesigns and Co. LLC, a full-service interior design firm.
The couple and their two sons, ages 5 and 7, moved north from Delray Beach in mid-May and are renting a house in Lake Nona's nearby Laureate Park neighborhood until construction of their new home is complete.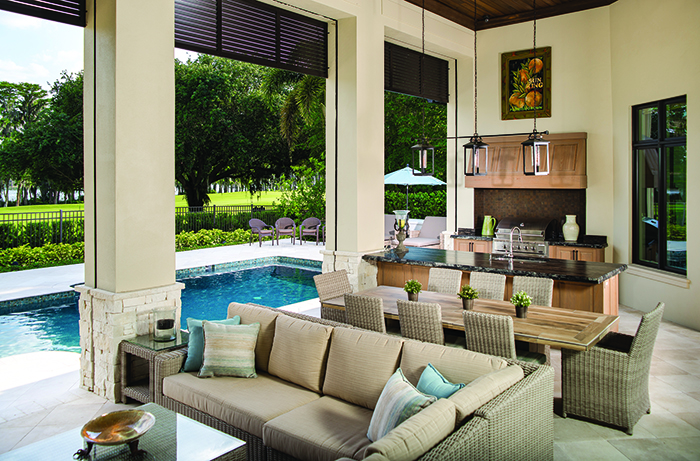 Laurel Pointe
The Houstons' chosen model is the two-story Barbera, with two of the five bedrooms earmarked for offices. Among the home's highlights is a covered entry with double doors that open to an inviting foyer. There's a spacious great room, a casual dining area and a covered lanai.
Toll Brothers is offering two sets of models, the Collage Collection and Mosaic Collection. (The Barbera model is part of the Collage Collection.)
Community amenities include miles of trails, parks, a robust public art collection and autonomous shuttle service, among other perks. In addition, the Houstons were attracted to what Ryan calls "New Nona" — an area that attracts families with young children in which both parents have busy careers.
Also, pointing to the neighborhood's location at Narcoossee Road and Luminary Boulevard (which is under construction), he adds: "There are plenty of different opportunities to do different things."
Ryan makes special mention of one of Lake Nona's most distinctive amenities, Boxi Park. Located in Lake Nona Town Center, Boxi Park opened in late 2018 as a 30,000-square-foot, family- and dog-friendly outdoor venue that offers a mix of restaurants and bars, beach volleyball courts and a live entertainment stage.
The park is among the first of its kind on the East Coast. The open-air entertainment destination is built using 12 repurposed shipping containers arranged in one- and two-story configurations.
Visitors can explore an array of food and beverage options throughout the park, which also includes shaded seating, a playground and a fenced dog park. The outdoor stage hosts a variety of local performers with regular programming scheduled for weekdays and weekends.
Of course, Lake Nona Town Center, the hub of Lake Nona, features restaurants, boutiques, hotels, public art and event venues — 4 million square feet of premium shopping, dining and entertainment.
"As part of Lake Nona, Laurel Pointe residents will enjoy all of the varied amenities, attractions and activities that this innovative and creative area offers," says Brock Fanning, Division President of Toll Brothers Central Florida.
Adds Fanning: "Home is more important than ever before. People are realizing the importance of great design and how that can elevate their daily lives."
Laureate Park Expansion
While considered separate, Laurel Pointe is loosely part of an expansion of venerable Laureate Park, which opened in 2011. Laureate Park, with its brightly colored bungalows, townhomes, cottages and multistory homes, is adding new homesites to be built by Craft Homes and Dream Finders Homes.
Craft Homes has single-family homes and townhomes, ranging in size from 1,650 to 3,413 square feet, with single-family homes priced from the mid-$500s and townhomes from the mid-$300s. There are three series of single-family homes — Artisan, Guild and Journey — and one townhome series, called Style.
Dream Finders Homes is offering single-family homes with prices starting at $625,990 and reaching $835,990. Homes range in size from 1,976 to 4,024 square feet.
In addition, new amenities are planned, such as a community garden, playground and trails connecting to the northern section of the older neighborhood.
The initial 227 homesites are now being brought to market, with a few hundred more to follow over the next few years, according to Rob Adams, who manages the for-sale residential neighborhood development and production builder programs for Lake Nona's Tavistock Development Co.
Adams was the lead executive in the development, launch and management of fabulously successful Laureate Park — which has recorded more than 2,600 home closings since opening.
Not surprisingly, Adams describes the Laureate Park Expansion as "a continuation of a close-knit neighborhood." The same, in fact, can be said about all of Lake Nona — a continuation.
When Adams arrived at Tavistock, his two daughters were ages 1 and 4. Now, they're in college. "It's just a large piece of property, and it takes some time to develop it, even in a very high-growth market like Orlando — given the approach we take, which is a very thoughtful approach," says Adams.
He adds: "We're always active. With 11,000 acres, there's always something happening. And we're trying to get it right over that time. One of the bigger selling points of Lake Nona is we try to offer a wide variety of housing types."
Isles of Lake Nona
Such thinking is evident at Isles of Lake Nona, the third of the new communities, which opened in April 2020. The gated neighborhood contains single-family homes, townhomes and bungalows with open-concept floorplans, designer finishes and energy-efficient features (including natural gas) by Pulte Homes.
Homes range from two to seven bedrooms and two to 5.5 bathrooms, with prices starting at $471,990 for townhomes, $584,990 for bungalows and $629,990 for traditional single-family homes.
All totaled, there'll be 508 new homes in Isles of Lake Nona set amid a large, interconnected network of ponds much like Lake Nona's established Village Walk neighborhood. At press time, there were nine model homes open for visitors.
Community amenities include a clubhouse, sport courts, a fire pit, a splash pad, a fitness center and a resort-style pool and cabana.
"Isles of Lake Nona has something for everyone," says Blake Lapinsky, Pulte's vice president of sales for Central Florida. "And its location in Lake Nona makes it extremely convenient to access all that Orlando has to offer."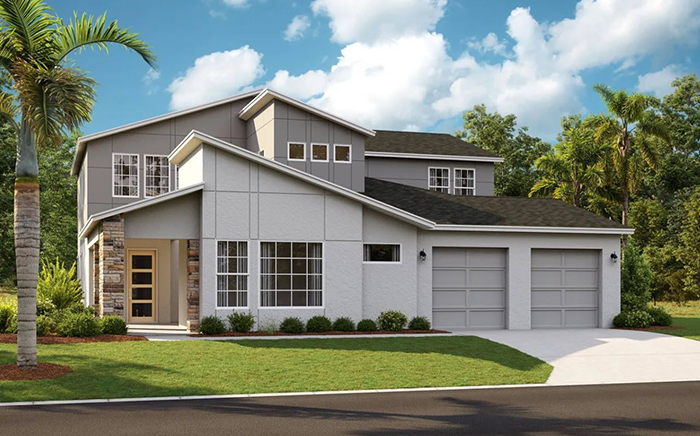 Summerdale Park
The fourth new neighborhood is Summerdale Park, consisting of homes on 50- and 60-foot homesites from Dream Finders Homes and Craft Homes. With abundant water frontage, a total of 208 homes are offered with prices starting in the mid-$500s.
For example, Dream Finders' Biscayne model measures 2,689 square feet with four bedrooms and three bathrooms and is priced at $642,990, while its Ellington model, with five bedrooms and 3.5 bathrooms, is priced at $760,990.
The largest Craft Homes model is the 3,630-square foot Austin, which has four bedrooms and five bathrooms and is priced from $789,990.
Clearly, throughout the four new neighborhoods, there are choices. "One of the bigger selling points of Lake Nona is that we try to offer a wide variety of housing types," says Adams of Tavistock.
Adams adds that buyers who love Laureate Park — which has smaller lots and garages in the back — aren't necessarily prospects for Isles of Lake Nona, which is gated and features traditional architecture.
But they all like living in Lake Nona.
"People like living here for a lot of reasons," continues Adams. "They like the housing choices. But they also really like the location — beyond the homes it's the schools and what you can do here. There are dining destinations, you can walk in a park, there are events."
Indeed, buyers remain attracted. Despite one change after another after another at Lake Nona, that fact has remained
the same.