"I'm on the job every day. I'm my own superintendent," says Paul Waters of Waters Custom Builders. "So there's not a communication that doesn't go through me." That attention to detail is reflected in Waters' gorgeous homes, like this one in Isleworth. Most of the family-owned company's work is in upscale communities in southwest Orlando.
BUILDING TRUST, MAKING FRIENDS
PAUL WATERS SAYS RUNNING A HANDS-ON BUSINESS IS THE SECRET TO SUCCESS IN THE CUSTOM-HOME MARKET.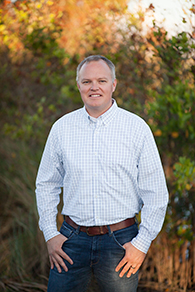 For Paul Waters, hands-on is the way to run a business. That's certainly how he runs his company, Waters Custom Builders, which he started in 2017.
"I'm on the job every day. I'm my own superintendent," he says. "So there's not a communication that doesn't go through me."
Waters graduated from the M.E. Rinker School of Building Construction at the University of Florida in 2005 and went to work with J. Richard Watson Construction, one of the top custom homebuilders in Orlando.
It wasn't until 13 years later that he got the itch to go out on his own. The opportunity came when he picked up a couple of large addition/renovation projects on custom homes. Then it was off to the races in a highly competitive business.
Over the past five years, Waters Custom Builders has tackled projects in Isleworth, Keene's Pointe and the town of Windermere, all in southwest Orlando — for decades a custom-home hotspot.
Most of Waters' home are in the vicinity of 4,500-plus square feet. But this year he landed a contract for a 13,700-square-foot project — which he admits will skew the average somewhat higher.
Waters Custom Builders is a family company, run by Waters with one full-time employee, office manager Sarah Bowling. His daughter Michelle helps with administration, while his wife Gladys handles payroll and seeks ways that the company can give back to the community.
A true custom builder, Waters says no two homes in his portfolio are exactly the same. "I don't have a set of plans that we choose from," he says. "We take the homeowner's needs and design around them."
If you want a custom home but haven't yet selected an architect, Waters says, he can offer guidance: "I meet with each client, get a feel for what they're looking to do, then match them with an architect who I think can create that vision."
If you have an architect, Waters adds, then get the builder in the loop as quickly as possible. "Sometimes an architect draws something that looks really pretty, but it's not going to fit a buyer's budget or be feasible to build structurally," he says. "We want to make sure the whole team is working together."
The same, he adds, goes for an interior designer. When asked by buyers for recommendations, Waters notes that he tries to match personalities since communication — and a level of camaraderie — is so important to the interior design process.
One of Waters's current projects is for a couple who's downsizing. "We designed a home that would have extra-wide spaces for future wheelchair access," he says. "Same with showers, which are roll-in. It's not full ADA compliance — but it could become ADA compliant if it had to be."
As the Orlando area becomes increasingly built out, finding land on which to build a dream home has become more challenging. Although there are some vacant homesites in the communities where Waters now builds, he says teardowns are beginning to be predominate.
He cites a current project in Isleworth as an example. Although the client loved the neighborhood, the home was one of the first built in the exclusive community. It had termite damage, outdated materials and wasn't as energy efficient as homes built today. It just made more sense to tear it down, he says.
Besides his hands-on work ethic, Waters is proud of his long-term relationship with his clients.
"I get phone calls from homeowners who I did projects for back in 2010," he says. "They still call and ask questions about their homes. I answer them and I help them."
He considers his clients to be friends when he finishes building their homes: "I know their families, they know mine. It's a long-term relationship."
Waters is a member of the Master Custom Builders Council, a highly selective organization whose membership criteria include financial stability and references from at least five former clients. All MCBC builders offer a limited 10-year structural warranty for their homes.
What's his favorite thing about building? "I love seeing everything come together," Waters says, whether that means building a new home or rebuilding an old one to fit a new owner's needs.
But most rewarding, he adds, is when a client is so thrilled with Waters' work that he gets a referral — which happens frequently. In fact, his company website is full of testimonials like this one:
"What most impresses us about Paul, in addition to his knowledge of building practices, is his integrity. We have complete trust in his ability as a builder and in his word as a gentleman."