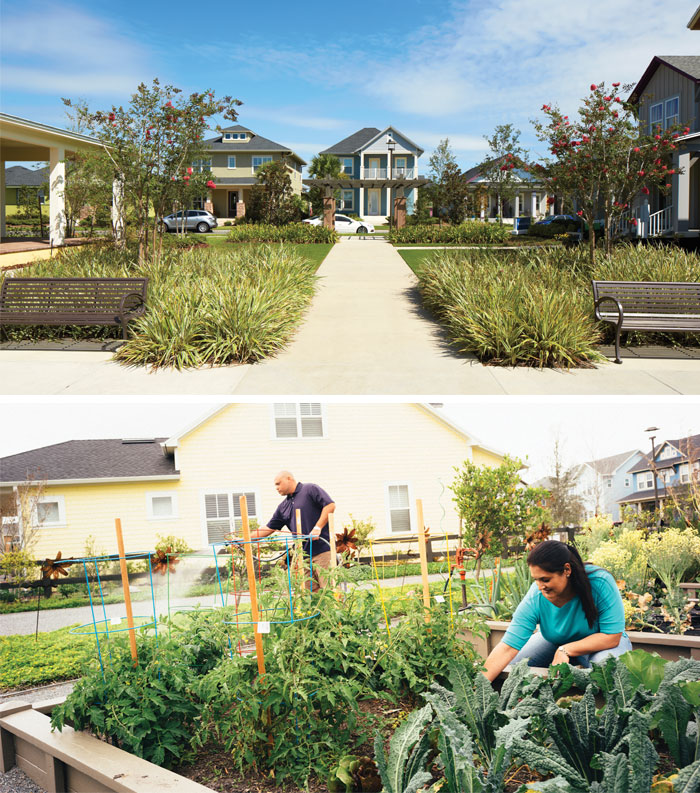 Hot-selling Laureate Park (top) is a vibrant, multibuilder neighborhood of brightly colored bungalows, townhomes, cottages and multistory homes decked out with state-of-the-art technology. The neighborhood sits alongside community gardens (above), an LP FIT fitness center, a resort-style aquatic center, an event venue, miles of trails, pocket parks and plenty of playgrounds. Laureate Park builders include Ashton Woods Homes, Cardel Homes, Craft Homes, David Weekley Homes and Dream Finders Homes.
LAKE NONA SELLS ITSELF
THE SOUTHEAST ORLANDO COMMUNITY HAS BEEN A HOT SPOT FOR YEARS. BUT RECENT DEMAND HAS ACCELERATED THE BOOM.
Natalia Foote and her husband saw their chance: They could get more bang for their housing buck if they bought near Lake Nona, instead of in the master-planned community.
That was in 2008, right after the housing market crashed. The couple got a deal on a home with 2,800 square feet in the East Park community. After five years there, Foote says, she might have been able to name two neighbors.
"I was young and kind of dumb," Foote says. "I just saw I could get a much larger home across the street in a place with similar amenities. I didn't know about the area. I wasn't aware of what Lake Nona proper was."
The Footes and their two boys moved to Lake Nona six years ago. They paid $451,000 for a home in the community's Laureate Park neighborhood and could now "easily sell for $600,000," Foote says.
Unlike before, everyone in Laureate Park was sociable and there were plenty of opportunities for community interaction. Now Foote teaches yoga in her 'hood.
Buying might have been more challenging if the Footes tried it during the last year. Like the rest of the region — and the country — record low inventory has meant fewer options.
During a year marked by people isolating at home, sales in Lake Nona increased 38 percent from 2019, reaching 645. The 17-square mile swath of homes, recreational facilities, an artsy town center and a health sciences complex dubbed Medical City was one of the top 20 bestselling master-planned communities in the U.S. for last year, according to Maryland-based RCLCO real estate advisors.
Natalie Arrowsmith, president of the Orlando Regional Realtor Association (ORRA), says she's seen Lake Nona homes priced at more than $1 million sell instantly during the last year, often attracting multiple cash offers. Buyers recognize what's happening there, she adds.
"I think Lake Nona is just taking something beautiful and taking it to another level," she notes.
When Mark Pacheco started trying to sell homes in Lake Nona last year, the world had hunkered down. The seasoned salesperson hoped to close on two or three sales per month.
"It took a while to get started, with permitting and all, but it was more like five to eight sales a month and we sold out in three months," says Pacheco, who works for Cardel Homes. "I wish we had more lots."
Remote buyers drove sales in the southeast Orlando community. Pacheco says about half his buyers purchased homes, priced from $500,000 to $1 million and up, sight unseen.
"When this whole COVID-19 thing started, there was a lot of anxiousness," Pacheco adds. "I sold 80 percent of the homes virtually, via Zoom, and never met 50 percent of the buyers."
In the zip code for Lake Nona during the first quarter of this year, sales prices averaged $670,988 with a $77 million sales volume, according to ORRA. In the Central Florida region, only Winter Park, Bay Hill and Windermere performed better for the quarter, according to ORRA statistics.
Buyers haven't been shy about going big. Of Cardel Homes' buyers in Lake Nona, half spent extra to add garage apartments for either an older child or as an investment. With rents reaching $1,600 in the community, buyers understand the value of building rentable space, Pacheco says.
Demand for Lake Nona homes has sustained into this year. "As we've built things, people have embraced the vision," says Rob Adams, vice president of Tavistock Development Group, the company that's developing Lake Nona." Adds Adams: "As we keep the housing coming, there's a swath of product." There are luxury estates, gated neighborhoods, townhome communities and active-adult projects from which to choose.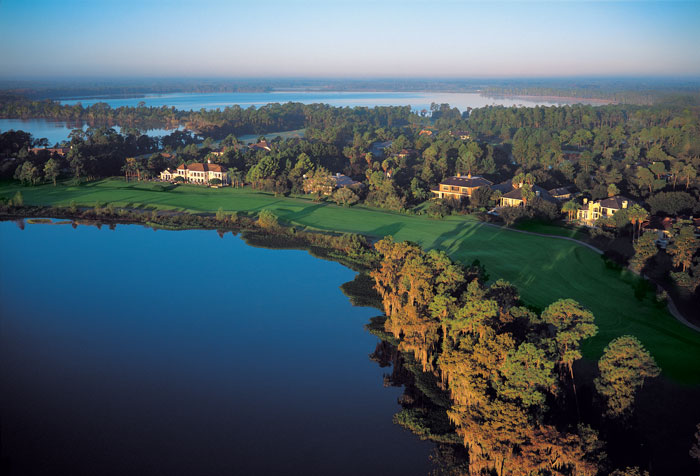 The following story describes what's existing and what's new in Lake Nona, but Homebuyer: Central Florida Edition has not included pricing because the market was in such flux as of press time. Please check individual community websites or call in advance for current pricing.
Beazer Homes' Gatherings of Lake Nona (beazer.com) is a 55-plus community adjacent to the VA Medical Center. It offers 216 condominiums, and residents enjoy a variety of amenities and programming.
PulteGroup's (pulte.com) The Isles of Lake Nona offers single-family homes and townhomes nestled among a large network of ponds. More than 500 homes are planned, and the neighborhood will feature a clubhouse, sports courts and a resort-style pool with a splash pad.
One of the top private golf and country clubs in the world, Lake Nona Golf & Country Club (lakenona.com) is a sanctuary of luxury real estate and amenities nestled along the shores of Lake Nona.
The neighborhood features a Tom Fazio-designed championship golf course, a 40,000-square-foot clubhouse with an 18-room guest lodge, a bath and racquet club with all-inclusive fitness and tennis facilities, a resort-style pool, year-round children's programming, 24-hour gated security and outstanding water-based recreation on three lakes.
Custom builders in the upscale enclave, where prices run into seven figures, include Akers Custom Homes, Arturo Barcellona Homes, Cahill Homes, DeVoe Custom Homes, Goehring & Morgan Construction, Hughes Tobin Custom Homes, Issa Homes, Maroon Fine Homes, Pellegrini Custom Homes, Phil Kean Design Group and Stonebridge Homes.
Hot-selling Laureate Park (lakenona.com) is a vibrant, multibuilder neighborhood of brightly colored bungalows, townhomes, cottages and multistory homes decked out with state-of-the-art technology.
The neighborhood sits alongside community gardens, an LP FIT fitness center, a resort-style aquatic center, an event venue, miles of trails, pocket parks and plenty of playgrounds.
Laureate Park builders include Ashton Woods Homes, Cardel Homes, Craft Homes, David Weekley Homes and Dream Finders Homes. (The Preserve at Laureate Park, a gated neighborhood by Taylor Morrison Homes, is sold out but may have resales available.)
Somerset Crossings is a low-maintenance townhome neighborhood by PulteGroup (pulte.com) featuring open-concept floor plans, one- and two-car garages, and resort-style amenities including a pool, cabana and playground.
A senior-living facility, Somerby Assisted Living (somerbyseniorliving.com) consists of apartments that boast high ceilings, spa showers, kitchenettes, and washers and dryers. It offers assisted living, memory care and respite care.
Looking ahead, national builder Toll Brothers (tollbrothers.com) plans to debut in Lake Nona as soon as October with the opening of gated Laurel Pointe, located off Narcoossee Road and newly constructed Luminary Boulevard. The neighborhood will include 124 single-family homes, each featuring views of water or a preserve.
Brock Fanning, president of the company's Central and Southwest Florida divisions, says he's excited about rolling out a new line of elevations in an innovative development that's close to shopping, jobs, theme parks and Orlando International Airport.
"No sale is easy but this very desirable location makes it easier to get people into the sales office," says Fanning, who anticipates a buyer mix of 60 percent families and 40 percent second-home buyers — which is also a trend Toll Brothers has seen in the southwest Orange County master-planned community Horizon West.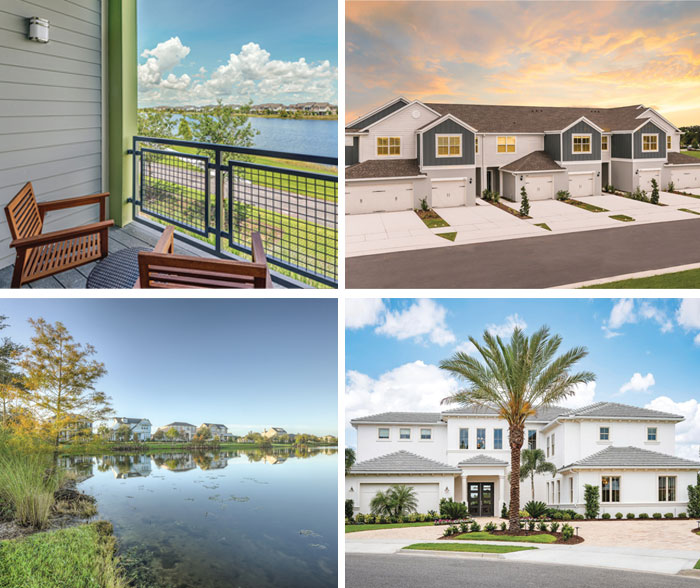 Another new neighborhood off Narcoossee Road is 65-acre Summerdale Park, launched by publicly traded homebuilder Dream Finders Homes (dreamfindershomes.com) along with Craft Homes (crafthomes.com). "Summerdale Park is the definition of a live, work, play community," says Gerry Boeneman, president of the company's Central Florida division.
Upscale apartments are also popular in Lake Nona. Ariel Apartments (lakenonaariel.com), located in the western portion of the community, features one-, two- and three-bedroom units designed for energy efficiency.
Residents can access 1GB high-speed internet and a 24-hour fitness club featuring Technogym equipment and virtual classes. It's even pet friendly and includes a dog park, a pet-washing station and an agility course.
LandonHouse (liveatlandonhouse.com), Pixon (lakenona-pixon.com) and Lake Nona WaterMark (lakenonawatermark.com) also offer luxury rental options. At LandonHouse, residents can rent one-, two- or three-bedroom apartments as well as open studio spaces for true urban living. All 279 apartments are accented by 10-foot ceilings and great views of the quickly expanding Town Center and Medical City.
At Pixon, a 200-unit modern flat community featuring an impressive roster of innovative community conveniences that include a car-share program featuring Tesla vehicles and a concierge delivery system.
The complex also offers 32,500 square feet of retail space on the ground floor, where you'll find such businesses as Foxtail Coffee Co., Rukus Cycling Studios, Club Pilates and Island Fin Poke Co. The complex includes the region's first "micro units," which are just under 400 square feet.
Lake Nona WaterMark is anchored by a 7,515-square-foot clubhouse with a resort-style pool, a fireside veranda, an outdoor kitchen and a business center. It's located near Lake Nona's Sports and Performance District, which is anchored by the USTA National Campus.
Also planned within Lake Nona is a 94-unit assisted-living complex. Lake Nona Senior Housing LLC — a company related to Winter Springs-based Stonegate Development Co. of Florida (stonegatealf.com) — will build a 76,330-square-foot facility called Stonegate that will include 63 rooms for assisted living and 31 for memory care.