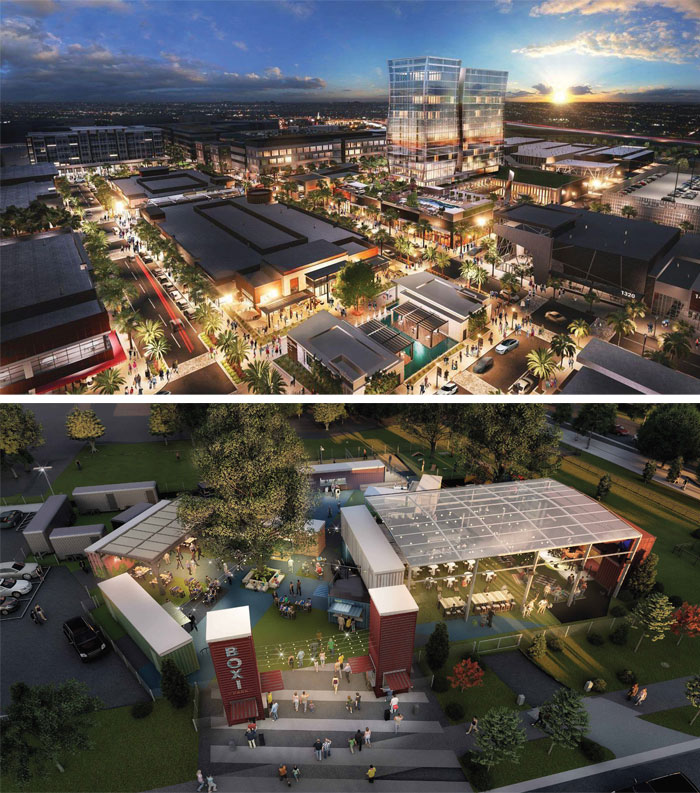 The Lake Nona Wave Hotel (top) will be the centerpiece of the Town Center, the community's premier entertainment and shopping district. With its curvilinear glass edges jutting 17 stories skyward, the hotel will have 239 guest rooms and bring the community new entertainment options with a restaurant, lounge and a pool that may be visited by locals. Lake Nona's fun and funky Boxi Park (above), in which the buildings are fashioned from repurposed shipping crates, is among the first of its kind in the Southeast. Shown is an aerial view with entry towers, the lounge and the stage for live music. There's also a playground and a beach volleyball court.
LIVE, WORK, PLAY
LAKE NONA'S RAPID RISE HAS BEEN THE RESULT OF VISION, COMMITMENT AND TIMING.
One recent summer day, construction workers watched as svelte models poised for a photo shoot. The unlikely pairing of hard hats and summer fedoras seemed almost ordinary in a scene punctuated by volleyballs arching upward and planes jetting overhead.
So very Lake Nona.
The photography would promote Lake Nona's newest amenity — the Wave Hotel, a brand of its own. Nearby is a brand-new health center on which guru Deepak Chopra has served as a consultant.
The volleyballs, by the way, are shooting skyward from three-time Olympian and gold medalist Phil Dalhausser's Beach Volleyball Academy in Boxi Park, an outdoor venue offering food truck-style eateries, live music and a playground.
Lake Nona resident Lauren Endsley, an agent with Stockworth Realty, says her clients are taken aback when they see the mash-up of a wakeboard park, public art and urban apartments set against a backdrop of grazing cattle.
"They're just dumbfounded," notes Endsley, who has lived in Lake Nona for 15 years. "It's almost like they're seeing a mirage in the desert."
Indeed, southeast Orlando's explosive growth might look to some like a collection of the kind of car-dependent suburbs springing up throughout the region. Its fast-evolving hub — Lake Nona, which encompasses 17,000 acres — is remote from jobs in downtown Orlando, after all.
But a satellite view doesn't tell the full story of a community carved not that long ago out of pastureland.
One of the fastest-growing master-planned communities in the U.S., Lake Nona — which is being developed by Tavistock Development Company in south Orlando — is recognized for its thoughtfully designed neighborhoods, top-rated education facilities, leading-edge business and research clusters, and diverse retail and entertainment centers.
Bisected by S.R. 417, Lake Nona sits southeast of the Orlando International Airport and just north of Osceola County. While thousands of residents call Lake Nona home, there also are many nonresidential projects in the community — and many more on the way.
"One thing that differentiates Lake Nona from a lot of communities is the work opportunities," says Orlando City Commissioner Jim Gray, who's a proud resident. "A lot of communities don't have that aspect of live, work and play."
When Lake Nona began to emerge about 15 years ago, the idea of investing in a community 25 miles from downtown Orlando may have seemed like a gamble. But the once-remote area has since filled with more new residents and businesses of every variety.
Gray says the reason employers like KPMG and the VA Medical Center chose to locate in Lake Nona was a recognition that Tavistock was there to stay and to create a legacy.
In addition, public-private partnerships have boosted the community's appeal. Gray points to Orlando's recent move to incentivize InnovaCare, a healthcare services company, to relocate from New York to Lake Nona.
Tavistock Development Vice President Rob Adams has watched what's now one of the region's hottest submarkets mature over the years. Now, he says, it's become richer with options for jobs, recreation and neighborhoods.
"I see a real difference between what we were creating and the community we have now," he notes. "We have more of a critical mass now, with amenities and schools that are more a reflection of who's here."
When he walked into Foxtail Coffee, located on the ground floor of Lake Nona's Pixon Apartments, not long after it opened in the winter of 2020, the shop seemed to instantly fill with a crowd of regulars. Adams wondered: "Where did they all go before?"
Orange County Property Appraiser Amy Mercado says that when she arrived in the Orlando area about 25 years ago, the city was well established. But Lake Nona, near where she now lives, has taken shape in an amazingly short period of time. Visiting there, she adds, always elicits moments of "where did this come from?"
"We're seeing an entire smart city grow," adds Mercado. "What you're seeing in Lake Nona is all of it happening at once — it's its own little bubble with all its components."
Mercado's office saw residential property values increase about 10 percent in Lake Nona last year, surpassing the countywide increase of 6 percent. The Apopka and Oakland areas lead the county with annual population growth rates of about 15 percent — but Lake Nona leads for rising property values, she notes.
In addition to homes, here are some of Lake Nona's other major components:
THE CENTER OF IT ALL
At the intersection of Lake Nona Boulevard and Tavistock Lakes Boulevard, the Lake Nona Town Center encompasses hotels, offices, restaurants and apartment buildings. Plans call for the open-air, urban district to eventually contain 4 million square feet of entertainment, shopping and dining space.
Boxi Park Lake Nona is in the Town Center just south of S.R. 417 on Lake Nona Boulevard. It offers a mix of restaurants and bars, beach volleyball courts and a live entertainment venue to create an outdoor entertainment destination built using 14 repurposed shipping containers arranged in one- and two-story configurations.
Among the first of its kind on the East Coast, the 30,000-square-foot park is family- and dog-friendly. Customers can find food and beverage options showcasing different cuisines, along with two full-service bars serving a selection of cocktails. A beer garden features its own craft beer line.
Other dining options in the Town Center include Chroma Modern Bar + Kitchen, Park Pizza & Brewing Co., Bosphorous Turkish Cuisine, Island Fin Poke Co. and Foxtail Coffee Co., with more new options in the pipeline.
Visitors have several hotel choices with Courtyard by Marriott for short-term guests and Residence Inn for long-term stays. The Town Center buildings are adjacent and share a lobby. Each hotel offers fitness centers and more than 100 rooms.
Both include Stay Well rooms with amenities such as aromatherapy, circadian mood lighting, water-filtering systems, memory foam mattresses built from plant extracts, air-purification systems and vitamin C-infused showers. The Residence Inn also features rooms with separate bedrooms and living areas, fully functioning kitchens and grocery delivery service.
Nearing completion is the Lake Nona Wave Hotel, which will be the Town Center's crown jewel. With its curvilinear glass edges jutting 17 stories skyward, the hotel has 239 guest rooms and brings the community new entertainment options with a restaurant, lounge and a pool that may be visited by locals, according to Tavistock spokesperson Karlee Kunkle.
In addition to a gym, the hotel will feature a ballroom and more than 5,400 square feet of meeting space. It will also have View Smart Windows that tint using predictive intelligence in response to the sun and outdoor conditions, voice-automated in-room controls and other high-tech features.
For example, while staying at the Wave, guests can use a custom mobile app that allows them to control virtually their entire stay from their mobile devices, including ordering food and viewing a schedule of events. The architecture — by Arquitectonica, a company renowned for expressive modernism — will reflect the hotel's futuristic vibe.
And there's so much more to come.
Phase II of the Town Center will feature the 110,000-square-foot Lake Nona Wellness Center. The facility will feature a medically based fitness program, sports performance training, physician offices and community education spaces for Lake Nona residents, families and employees as well as elite athletes.
The center will also feature first-class equipment and on-demand fitness activities by Lake Nona partner Technogym. Amenities will include childcare facilities with outdoor play, a naturally lit public concourse and an indoor/outdoor demonstration kitchen.
In addition, there'll be an indoor climbing wall, indoor and outdoor pools, an outdoor classroom, outdoor training turf, a wellness plaza, a zen garden and a sports performance area with a 40-yard sprint track.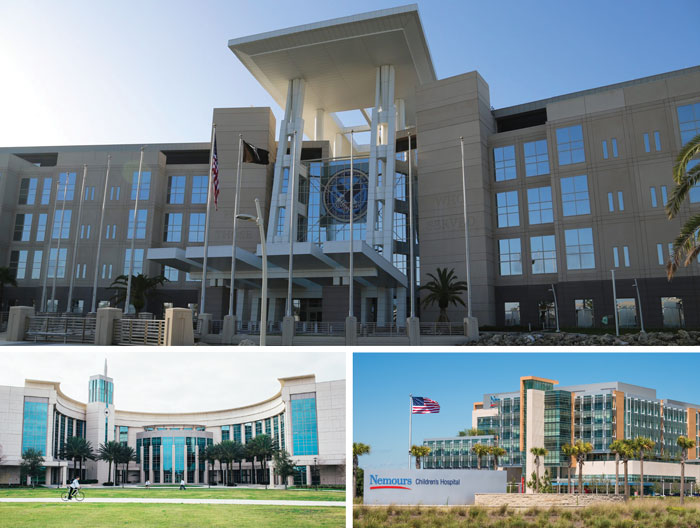 MEDICAL CITY MIRACLE
Lake Nona's health and life sciences cluster, also known as Medical City, is home to top medical and research facilities, including the University of Central Florida Health Sciences Campus and the Lake Nona Cancer Center as well as Nemours Children's Hospital, the University of Florida Research & Academic Center and the Orlando Veterans Affairs Medical Center.
Together they provide a unique collection of research, education and medical care options — all state-of-the-art. So let's have a look at what, exactly, Medical City has to offer.
The UCF Health Sciences campus includes several components. Established in 2006, the UCF College of Medicine is one of the first U.S. medical schools in decades to be built from the ground up.
Included is a 170,000-square-foot medical education facility, which features the latest in lab and classroom technology, as well as the 198,000-square-foot Burnett Biomedical Sciences building.
The college is unique nationally because of the large undergraduate and graduate programs in biomedicine offered through the Burnett School of Biomedical Sciences. The Burnett School boasts almost 3,000 undergraduates — making biomedical sciences the third most popular major at UCF.
In addition, the 204,709-square-foot UCF Lake Nona Medical Center — a partnership hospital between HCA Healthcare's North Florida Division and UCF Academic Health — has recently opened adjacent to the medical school.
The 100-bed teaching hospital provides healing for patients throughout Central Florida and beyond. It also educates healthcare providers of the future and supports the work of brilliant medical researchers that will lead to lifesaving care.
Such a hospital has always been the dream of the medical school's founding dean, Dr. Deborah German, who is also UCF's vice president for health affairs.
"We needed a teaching hospital to accomplish our goal of becoming one of the nation's premier 21st-century medical schools, anchoring a Medical City that could one day become a global destination for education, research and patient care," she says.
The hospital is already making an impact with leading-edge treatments. For example, it's the first hospital in Central Florida to provide incisionless brain surgery to treat essential tremor and tremor-dominant Parkinson's disease unable to be controlled with medication.
Essential tremor (ET) is a progressive, neurological disease characterized by tremors, which can make daily activities challenging. Nearly 10 million Americans are estimated to have ET.
Near the hospital is the 175,000-square-foot UCF Lake Nona Cancer Center, which houses cancer researchers, clinical trials and treatment for patients. And there are other key components of Medical City, which is already the global destination that German envisioned.
The 1.2 million-square-foot Orlando VA Medical Center serves the region's 400,000 veterans by providing acute care, complex specialty care, advanced diagnostic services, and a large multispecialty outpatient clinic as well as administrative and support services.
The VA facility is also home to the SimLEARN National Simulation Center, which is dedicated to improving the quality of healthcare services for veterans through the application of simulation-based learning strategies to clinical workforce development.
The University of Florida Research and Academic Center at Lake Nona is a 110,000-square-foot facility where basic, clinical and translational research in drug discovery and development takes place. UF's center also houses a nationally ranked Doctorate in Pharmacy program.
The 92,000-square-foot GuideWell Innovation Center, located near the UF facility, is a medical innovation hub for startups and healthcare entrepreneurs. The three-story building includes co-working space for startups on the first floor, and houses clinical and research companies on the upper floors.
Designed to promote collaboration and acceleration of groundbreaking ideas, the center provides the resources and collaborative environment innovators need to develop new solutions — and the connections to take concepts to market.
The 30,000-square-foot, first-floor collaboration space offers leaders from around the globe access to the best thinking in health innovation. Also in the building: exhibit space for new medical technology, a presentation venue, a video production studio, a nutrition lab and meeting space.
The Johnson & Johnson Human Performance Institute is a 35,000-square-foot global training center for the company's employees. Also available through the institute are services to help everyone from athletes to executives be more productive and perform at their personal best in high-stress situations.
The institute's campus includes the Corporate Athlete Course, a conference center, comprehensive testing and diagnostic facilities, a state-of-the-art fitness center and a world-class tennis center.
The 630,000-square-foot Nemours Children's Hospital is part of a state-of-the-art health campus that also includes Nemours Children's Clinic, an ambulatory diagnostic center, and extensive research and education facilities.
Healing gardens, nature trails, pet therapy areas and water features help create a peaceful environment that fosters both mental and physical healing.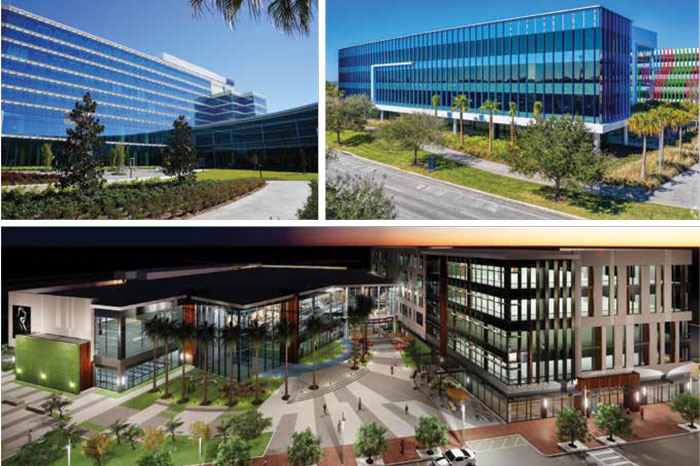 CAMPUS FOR CAPABILITY
Big Four professional services firm KPMG selected Lake Nona for its national training center from a competitive field of 50 prospective cities nationwide.
The high-tech campus opened in early 2020 and focuses on enhancing the skills and services of KPMG professionals through immersive training in cutting-edge classroom and field environments. About 50,000 employees worldwide will train each year in various accounting disciplines.
First was the KPMG Lakehouse, the firm's 800,000-square-foot learning, development and innovation facility. In May, KPMG announced that it was building a 120,287-square-foot Capability Center, which addresses how the firm does business and delivers services.
As the local economy continues to recover from the COVID-19 pandemic, the 350 new jobs brought by the Capability Center will be a welcome boost for the region.
"We're very excited about the opening of the Capability Center, and further enhancing our partnership with Orlando and Lake Nona," says Carl Carande, KPMG's U.S. vice chair and global head of advisory.
He adds: "To ensure we continue to deliver excellence in client service as the business environment continues to evolve, the ability to modernize our delivery model and become more digitally enabled are crucial. At the new center, our advisory professionals will help us deliver exceptional service, quality, efficiency and affordability to our clients across a wide range of consulting services."
PEAK PERFORMANCE
Set to open this summer, the Lake Nona Performance Club is 130,000 square feet — big enough to hold several grocery stores.
The concept is a 360-degree approach to health for everyone from infants to seniors, with specialized equipment for rehabbing injured athletes. Aquatics include a leisure pool, lap pool and whirlpool. The studio space for yoga, barre and Pilates is larger than most houses.
The gymnasium features basketball and volleyball courts. And the performnce club has partnered with Chopra Global, a leading whole-health company founded by wellness guru and bestselling author Deepak Chopra, to create the Chopra Mind-Body Zone and Spa.
This first-of-its-kind partnership will create Chopra Global's first brick-and-mortar facility.
"Chopra Global and Lake Nona are guided by our common mission of promoting health and wellbeing," says Chopra Global vice president of partnerships Jaime Rabin. "The programs at the performance club will serve as a model for us moving forward as we look to continue the expansion of our physical brand presence."
A dedicated 5,500-square-foot space will be devoted to providing a variety of yoga and meditation classes plus specialty options such as aerial yoga, barre and reformer Pilates. Unique mind-body assessments based in Ayurveda — one of the world's oldest holistic healing systems, which originated in India some 3,000 years ago — will also be available.
The Chopra Mind-Body Zone will complement the performance club's focus on the unique mind-body constitution of the individual, resulting in a customized experience for each guest. Access will be available to performance club members and nonmembers alike.
The Chopra Global operation will be led by an expert team with oversight from Chopra himself, who recently announced plans to become a Lake Nona resident and has previously conducted mass meditation events there.

ADVENTUROUS SPIRITS
On Adventure Lake adjacent to the City of Orlando's Heroes City Park, the Nona Adventure Park is a watersports facility that features a two-track Rixen Cable System for water-skiers and wakeboarders.
It also offers an inflatable aqua park with a series of floating pathways, climbing obstacles, slides and trampolines. There's even a summer camp, which pretty much always sells out.
In addition, the park has a pro shop as well as a 60-foot climbing tower with a ropes course and climbing walls. The Wi-Fi-enabled main entrance houses an upscale café with food and beverages, and a dry seating area for spectators.
The park welcomes birthday parties and even has a program where the entire facility can be rented for larger gatherings and such activities as corporate team building.
TENNIS, ANYONE?
The largest tennis facility in the country, the USTA National Campus features 100 courts and innovative developmental programs that make it a training destination for professional, collegiate and amateur players.
Home to thousands of training players and teams and to hundreds of tournaments each year, the 64-acre campus is open to the public and serves all levels of play for all ages. The campus has hosted 675,000 visitors and attendees since opening in 2017.
Current and former professionals who have visited, trained, coached and played at the facility include James Blake, Catherine "CiCi" Bellis, the Bryan Brothers, Jim Courier, Chris Evert, Ivan Lendl, Bethanie Mattek-Sands, Madison Keys, Billie Jean King, Jack Sock, Frances Tiafoe and David Young.
The facility was selected as the host site of the NCAA Division I Men's and Women's Tennis Championships in 2019 and 2021, as well as the NCAA Division III Men's and Women's Tennis Championships in 2022.
GETTING YOUR KICKS
XL Soccer World will open a new 50,000-square-foot indoor athletic complex off Narcoossee Road, near Valencia College's Lake Nona campus. The facility will feature two, six-versus-six 4G boarded turf fields and two multisurface fields.
In addition to soccer, the fields can also be used to play futsal, lacrosse, flag football and volleyball. XL Soccer World is scheduled to open this summer.
There'll be camps, adult leagues, a mini sports academy for youngsters (soccer, basketball, baseball and flag football). In addition, there'll be Youth Soccer programs and even an XL National Team consisting of selected players who'll have an opportunity to compete in Europe.
ROAD TO REHABILITATION
Construction is scheduled to start late this year on a Brooks Rehabilitation Hospital with 60 beds and a potential for double that number. The new hospital will focus on "medically complex" rehabilitation solutions in concert with Lake Nona's Medical City.
"Patients in the Orlando area often come to Jacksonville for our specialized care," says Dr. Trevor Paris, chief medical officer for Brooks. "Building a hospital in Lake Nona will allow us to provide exceptional care now as a destination medical center."
Adds Rasesh Thakkar, senior managing director, Tavistock Group. "Innovation is a cornerstone in Lake Nona, and we're pleased to welcome a national leader in rehabilitation and intensive therapy to Lake Nona's health and life sciences cluster.
"What impressed us further about Brooks," Thakkar continues, "is their commitment to research and education in addition to specialized care and enhancing people's lives not just in the present but innovating continuously with an eye to a brighter future."
---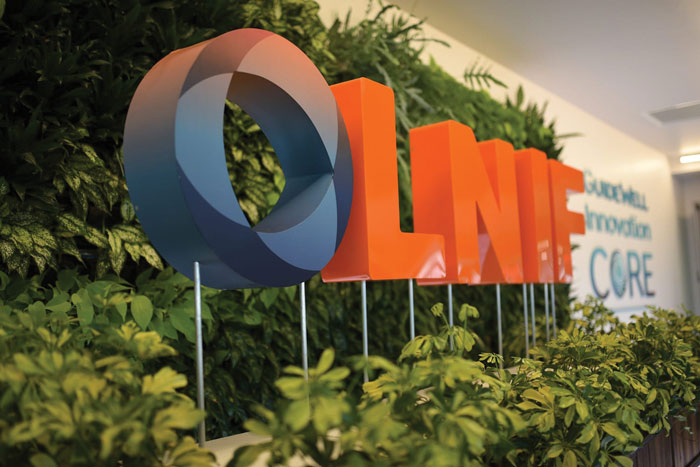 IMPACT FORUM GATHERS HEALTH THOUGH LEADERS
The annual Lake Nona Impact Forum, which takes place at various Medical City venues, is committed to leading the conversation for building the wellbeing ecosystem of the future by exploring the intersections of health, wellness, medical and scientific innovation, and strategies to optimize human performance.
Dedicated to inspiring and championing health innovation, the forum convenes more than 300 of the brightest minds and global thought leaders in health, wellbeing and human performance.
The next forum is scheduled for November 3-5, and is dubbed Health Innovation in the New Reality. Speakers include Dr. Sanjay Gupta, chief medical correspondent for CNN; as well as Dr. Richard Carmona, former U.S. surgeon general; Steve Case, chairman and CEO of Revolution LLC and co-founder of AOL; Renée Fleming, artistic advisor for the Kennedy Center for the Performing Arts; Ray Kurzweil, inventor, author, futurist and director of engineer for Google; and Michelle Williams, dean of the faculty at the Harvard T.H. Chan School of Public Health
The forum is an invitation-only event where leaders can learn about the latest advances in science and technology while exchanging ideas and engaging in collaborative conversations that directly lead to action and innovation that impact individuals, companies, and communities across the world.