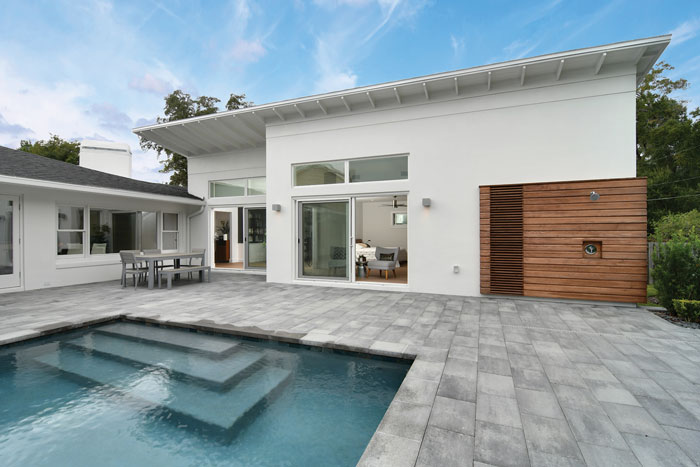 Basso has his personal preferences, such as warm classic architecture that's going to stand the test of time. Yet, he quickly adds this disclaimer: "As long as the design team is thinking about how families are going to live in the home for the long term, and as long as it's a quality design, we can appreciate all of the styles."
BOOMTIME FOR BASSO
CUSTOM BUILDER SAYS A GREAT HOME DOESN'T HAVE TO BE 10,000 SQUARE FEET.
These days, Justin Basso can take his sense of timing in stride. In 2008, with the idea of growing his family and despite the increasing certainty of a prolonged economic slowdown, he decided to start his own custom homebuilding company.
The official start date for Basso Homes was February 2009 — just after the housing industry's subprime mortgage crisis had taken hold and squarely in the middle of the Great Recession.
Basso, who graduated from the University of Florida in 1999 with a degree in mechanical engineering, first went into commercial development as an estimator with industry titan Turner Construction. He was part of the team that built The Sanctuary, a downtown Orlando luxury high-rise, in 2006.
At about that time, a friend in residential construction reached out and offered Basso an opportunity to manage home remodeling projects. He responded with the fateful decision to go to work for himself.
"At that time, there wasn't very much to do at all," Basso recalls. "It was a tricky time to start [a business] because there was no work." Well, there wasn't much work — but there was enough to get by if you were smart and careful.
About nine months later, Basso Homes finished its first solo project — a remodeling gig in the gentrifying Colonialtown neighborhood, not too far from the luxurious condominium tower he had helped to build three years earlier. Says Basso: "The jobs just slowly grew from there and kept going."
In 2019 and 2020, Basso Homes completed a total of six custom homes ranging in size from 3,000 to 5,000 square feet and priced in the low seven figures. All the company's construction last year was on homes that already were under contract before the pandemic hit.
"We worked all the way through it," says Basso. "I got so busy that we had almost more than we could handle."
Basso, a member of Central Florida's prestigious and highly selective Master Custom Builder Council, would prefer simultaneously juggling relatively few projects. About four or five custom homes at any one time is about right, he says.
Downtown Orlando, College Park and Winter Park are the sub-markets in which Basso likes to build. And, although he builds true custom homes, they aren't necessarily mansions.
"Some projects don't make sense for us," Basso says. "They make more sense for other builders. Our homes don't have to be 10,000 square feet. Our approach is [to build] homes that make their owners better. We want to build homes that create a better quality of life for the people who live in them."
Basso Homes, he continues, caters to those who "really want to enjoy family, friends and community — we build for that purpose."
To make certain those criteria are met, Basso leans on his engineering eye for detail and his rapport with customers to make sure that they're getting the home they envisioned.
"They're interviewing us and we're interviewing them because it has to be the right fit for both the builder and the homeowner," notes Basso, pointing to his company's formal preconstruction program.
Adds Basso: "We like to work out our details up front. It gives the client another chance to know us. It gives us a chance to know the client. It gets us one step closer in our relationship before getting married into a long construction project."
As part of the preconstruction program, customers who chose Basso Homes pay a retainer. This allows the company to "really dig down" during the preconstruction phase. "We feel like if the preconstruction is done well, the construction can be accomplished so much easier," he adds.
Basso has his personal preferences, such as warm classic architecture that's going to stand the test of time. Yet, he quickly adds this disclaimer: "As long as the design team is thinking about how families are going to live in the home for the long term, and as long as it's a quality design, we can appreciate all of the styles."
His emphasis on efficiency has allowed Basso to prosper when prices are low as well as when they're high. Efficiency also means fewer headaches for the buyer and the builder, and a more positive experience for everyone involved.
After all, that family Basso was hoping to grow all those years ago is here and still growing: a wife and three children ages 10, 12 and 13. Ultimately, he wants to spend time with them: "Right now, because of the kids' ages, my fun is doing things with them."