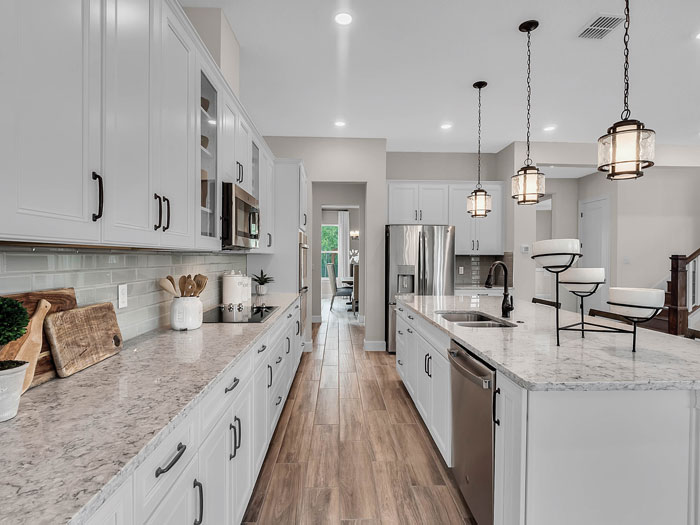 Avex Homes is busy in the Wiregrass community in Winter Garden. The Hawthorne model, at 1,869 square feet, boasts a sleek island kitchen (above) and an adjacent great room as well as three bedrooms, 2.5 bathrooms and a two-car garage.
FLUSH WITH LAND, AVEX HOMES SHIFTS INTO OVERDRIVE
Eric Marks has been around the block more than a few times in the homebuilding business. In 2005 Marks joined the Avalon Park Group, a diversified family of companies that, among other ventures, develops master-planned communities and has a significant ownership stake in Avex Homes, where Marks is now president.
Avex Homes (avexhomes.com) was formed in 2012 by Avalon Park Group and sitEX Properties USA, and controls some 3,500 homesites across the Orlando and Tampa markets.
Further, before coming to Avalon, Marks — an attorney who graduated in 1997 from the University of Florida Levin College of Law — was a shareholder at Akerman Senterfitt, a prestigious Florida firm with more than 400 attorneys. (Adding to his local cred, Marks is a 1990 graduate of Winter Park High School.)
During his nearly eight-year tenure at Akerman Senterfitt, Marks served as lead counsel to local developers and national retailers in all types of real estate transactions. As a result, Marks largely has pretty much done it all in the development arena.
"We're in a transition period right now," he says of Avex. In this instance, transition means acceleration. During 2019 and 2020, according to Marks, Avex Homes typically had 11 active new-home communities in Central Florida. This year, he expects to close out six of those communities — and by 2023 will have broken ground on 19 others.
Locally, Avex Homes is still building in Dillard Pointe (Winter Garden, single-family homes from the low $500s); Lake Denhem Estates (Leesburg, single-family homes from the $200s); Parkview at Lakeshore (Kissimmee, single-family homes from the $200s); Poinciana (Kissimmee, single-family homes from the $190s); West Village at Avalon Park (townhomes from the $300s); and Wiregrass (St. Cloud, single-family homes from the low $300s).
The most imminent new Avex Homes community is Simmons Trace in Kissimmee, which encompasses 108 homesites. Construction is set to begin in October with the builder's traditionally styled (and energy-efficient) one- and two-story homes with high ceilings, tiled floors, open floorplans, two-car garages and ample community amenities.
Marks describes the company's flurry of activity as simply "closing out some legacy communities, opening new communities and spreading our footprint." The timing, he adds, is right.
"We're in a strong land position at the moment," adds Marks. "And the locations, I think, are in the region's prime growth markets. And because many of those deals were put under contract a couple years ago, our pricing is very competitive." Marks expects to close on approximately 400 homes this year — a nearly 100 percent increase over 2020 — and then to close 700 homes in 2022. Avex Homes, which entered the Orlando market in 2014, notched just 30 sales six years ago.
Marks says the company's "opportunistic" land buying has served it well as demand has exploded. "I've not seen demand like this since 2006 and 2007," he notes. "And I think the demand is much more rational at this point than it was then."
In addition, it certainly doesn't hurt to have Beat Kahli, CEO of Avalon Park Group/sitEX, heading the parent company. Kahli's real estate investments encompass single-family, multifamily, commercial, retail, office and industrial projects.
Kahli is perhaps best known locally as the developer of east Orlando's Avalon Park, among the first wave of local master-planned communities that combined residential neighborhoods with a retail town center.
The Swiss-born Kahli has also expanded his operations into Europe with Avalon Park AG in Zurich, Switzerland, where he serves as CEO of the publicly traded Swiss company sitEX Properties AG.
Avex Homes, as a result, benefits from deep pockets and strategic expertise. The company's financial strength has allowed it to focus on providing affordable homes that can be customized by owners after they move in.
As an example, at Simmons Trace, located near the intersection of Florida's Turnpike and U.S. Route 441, 1,300-square-foot townhomes will be priced starting in the $200s. Single-family homes, starting in size at 1,550 square feet, will be priced from $250,000.
Marks revels in delivering homes at increasingly rare low price points, citing special pleasure in meeting the needs of buyers in the entry-level and first move-up segments. "You can call it a cliché, but that keeps you motivated," he says.
Not coincidentally, Marks prefers winning customers to winning industry awards, although he's won a few. He's particularly proud of the Avex Homes Google star rating among homebuyers — 4.2 out of 5 stars.
He adds: "If there's anything that can make my day, and frankly if there's anything that can kill my day, it's either a customer survey when they take the time to tell us about their great experience, or when they tell us they didn't have a great experience — that really hurts."
Fortunately for Marks' peace of mind, Avex Homes nearly always wins raves. Which is saying something these days, at a time when a shrinking labor pool and rising materials costs pose persistent challenges.
Marks believes he can mitigate the labor challenge: "If you take care of people, and you get a reputation in the community of taking care of people, you tend to be able to find good, quality subcontractors."
Says Marks: "I truly enjoy this. I would be very happy to be sitting here three to five years from now with the group of people I have around me."