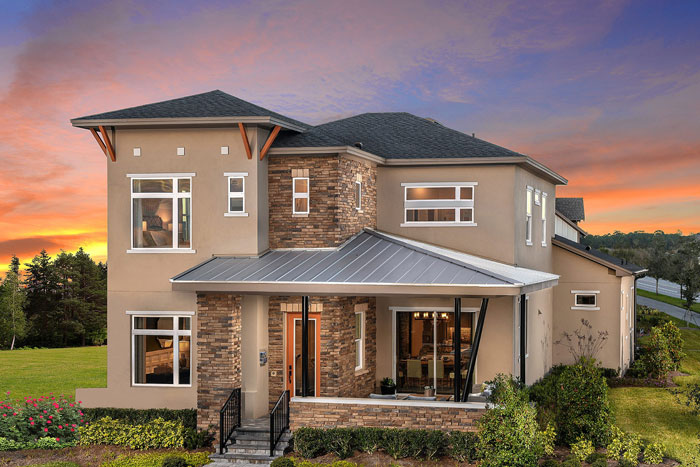 In Laureate Park, located in Lake Nona, is The Reef, part of the company's Village Series, which is priced from $525,990 and encompasses 2,753 square feet. This model reflects the trend of packing more sizzle into a smaller footprint by building up, not out.
PRICE CHECK
AS PRICES SPIKE, BUYERS ARE OPTING FOR SMALLER HOMES, EVEN IF THERE'S A COMMUTE.
With the ease of working remotely, new schools opening and on-demand delivery, Central Florida's suburbs have never looked so good.
Technology has eased many of the headaches that once came with living further from costlier urban areas. And best of all, buyers can now get more casa for their paychecks with fewer sacrifices.
Right?
Just as the 'burbs have become most alluring, the rest of the world seems to have discovered them, too. A mass migration into Florida and an exodus from apartments into homes has ratcheted up competition among buyers to record levels.
As a result, prices have spiked even in the outskirts and builders have responded with more innovative floorplans on smaller lots.
"It feels very frenzied right now, and people don't make very good decisions when it's frenzied," says Lisa Dilts, principal with Orlando-based real estate advisory group Compspring. "Do your research and use caution. For new-home buyers, it's a feeling that you're going to miss out."
In her recent research of Clermont and Mount Dora, Dilts says she found that people are relocating to Central Florida not just from the Northeast but also California, South Florida and Chicago.
"It's not a bubble," Dilts notes. "It's financially driven. It's expedited demand pushing it faster than it would otherwise." Even old standbys such as Davenport, St. Cloud, Groveland and Sanford have seen sharp price hikes, she adds.
Hanover Family Builders Co-President Steve Orosz, whose family has been building homes in the Orlando region for decades, says Central Floridians may wince at rising prices and commutes, but relocators from places such as New York and Los Angeles are enthralled with what they see as manageable mortgages and tame traffic.
"We have enough data in the last nine months to know this in-migration thing is real," Orosz says. "Folks from out of state — they've seen that this is still a good market, even with smaller square-footage homes."
Out-of-state buyers now make up about a fifth of sales in Hanover projects, which is double or triple the amount from a year ago, Orosz adds.
The fast-changing look of new local neighborhoods is evident from the ground up. More compact yards and multistory structures are increasingly commonplace in a suburbia long filled with stucco, three-bedroom homes framed with St. Augustine lawns.
Consider that in Orange, Seminole, Lake and Osceola counties, construction permits for new homes edged down in January from a year ago while permits for townhomes and apartments shot up, according to data from the National Association of Homebuilders.
SCENE SETTER
So, what can buyers expect in Orlando's new hypercompetitive market? Cute, old College Park bungalows used to be the darling for Central Florida's young, professional crowd.
The area just northwest of downtown Orlando delivered charm, affordability and proximity to jobs. But those days are over, says Brent Bartholomew, Orlando division president for David Weekley Homes.
"That was the way to do it," he notes. "But College Park is unattainable for almost anyone anymore."
With dim prospects in once-welcoming close-in areas and new suburban comforts, buyers are more willing to trade ample living space and proximity to jobs in exchange for sleek, highly functioning homes even if they're a little out of the way.
"There's a whole generation of new buyers who don't want the space their parents had," Bartholomew says. "They don't want to waste time mowing lawns. They're not used to doing maintenance. They're looking for something more efficient."
PRICE CHECK
With Metro Orlando home prices rising five times faster than historic levels during the last year, something has to give. Homes in an area of mostly Orange and Seminole counties, for instance, come under contract in 45 days — about half the time it took a decade ago, according to the Orlando Regional Realtor Association.
For both new and existing homes in the region — which encompasses Orange, Lake, Seminole and Osceola counties — the midpoint price in January was $315,000, which was up 16 percent from a year earlier.
Remember that inflation rose less than 1 percent during that time. And prices for townhomes and condominiums? They rose 18 percent. Further from Orlando's core, in Volusia County, those price jumps were even more dramatic.
Bartholomew calls it an "interesting time." He adds: "If you didn't know the real estate market, or how developers have to build and how land gets sold, and if you lived out in Texas or Oklahoma, it may not seem logical why prices have gone up so much in Florida."
Builders are paying more for land and labor. As in the past, they partly fault new-construction taxes known as impact fees for pushing up prices. But one thing that is working for buyers in this competitive market: some of the lowest interest rates the country has experienced in a half century.
In January, interest rates on a 30-year, fixed-rate mortgage were less than 3 percent. Buyers with favorable credit ratings can shave hundreds of dollars from the monthly mortgage payment.
Brad O'Connor, chief economist for Florida Realtors, says those rates should remain steady for the coming months. "With most economists, we all kind of think we reached a bottom — but most still believe rates won't go up significantly in the next year," he adds.
And even though down payments can be a struggle, buyers whose income wasn't impacted during the COVID-19 pandemic were better able to save money that they otherwise would have spent on restaurants, exotic trips and party shoes.
RIGHT-SIZED REALITIES
The new breed of townhomes has been reconfigured with widths no wider than a double garage door.
In southeast Orlando's city-style Lake Nona community, for example, home prices now average more than a half-million dollars. To appeal to buyers on tighter budgets, builders are offering tall, thin homes that extend up higher than they spread out.
"As the pricing has gone up, we're going to smaller products and doing three-story homes," says Rob Adams, vice president of residential development at Tavistock Development Company. He noted that Pulte has townhomes there priced in the $300s. And David Weekley has introduced a skinny-jeans version of townhomes there, too.
"We put a ton of effort and time into making the smaller footprint feel and look like a much larger home," says Bartholomew of David Weekley.
Townhouses as narrow as 16 feet with about 1,280 square feet of space have started selling in Lake Nona and will soon be underway in Clermont, he notes. Likewise, the company plans single-family homes that are about 24 feet wide with 1,700 square feet in Ocoee.
"At Laureate Park, you have younger healthcare folks who can live close to work," Bartholomew says. "They don't need the third bedroom. The first several sales have been to pilots. They love it. The pool is next door."
Floorplans are adapting fast. Compspring's Dilts cites new interest in Lennar's Next Gen floorplan, known for its adaptability with space that can serve as a home office, gym or mother-in-law suite. Sales of those plans accounted for a fifth to a quarter of Lennar sales in California, but the concept was far less popular in Central Florida. In the last four months, however, that's started to change, she adds.
Some builders are still working to serve up more traditional, single-family homes for less than $300,000. The key seems to be moving further out from Orlando's core, says Hanover's Orosz.
The family-owned company recently purchased a development site in the Leesburg area. Other Hanover projects include Cypress Oaks and Eagle Pointe, both near a new Turnpike exit in Minneola; and William's Preserve and Greenfield Village, both in Davenport.
"We're still trying to focus on affordability, so we've been more aggressive on sites that are further out in the Central Florida area," Orosz says.
That means scouting for areas where they can build 30-foot-wide homes on 40-foot-wide lots in hopes of keeping prices from about $250,000 to $300,000 for homes that range in size from 1,329 - 2,536 square feet.
Beyond relatively smaller lots than Central Florida had in the past, Orosz notes that builder design centers now feature a wider range of cabinets, countertops, floor finishes and paint palettes. Amenities also push up the cost of homes — and developers are weighing what to offer and how much more buyers are willing to pay for it.
The equation becomes more complicated as renters leave apartment complexes laden with resort pools, movie theaters, fitness gyms and billiards rooms.
"It's become challenging when people are coming out of a heavily amenitized apartment complex," Orosz says. In the quest to make home purchases attainable, the guardhouses and boat launches seem negotiable.
The pool and cabana? A must.