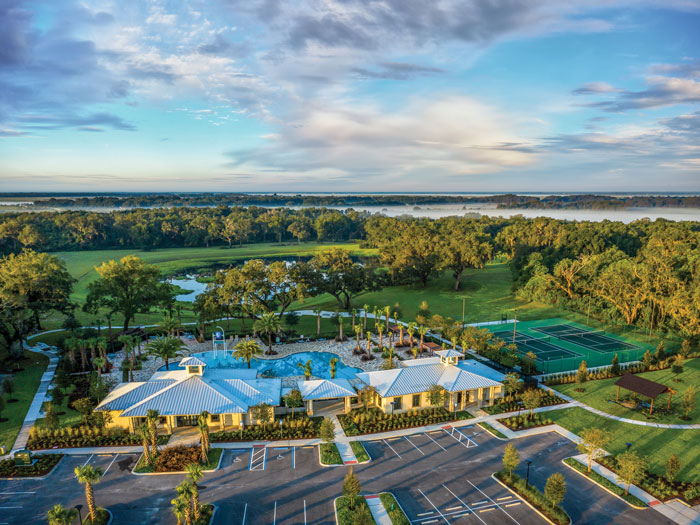 Tohoqua was slated to start in 2008, but was delayed by the economic collapse. Now, though, there are several hundred homes in the community and several hundred more under construction — and they're being bought as quickly as they can be built. The amenities are a big attraction, including a gorgeous Residents Club with a resort-style pool.
THE TIME IS RIGHT FOR TOHOQUA IN BOOMING OSCEOLA
Andre Vidrine opened the discussion with a simple disclaimer: In describing the present and potential of his rising community of Tohoqua in Kissimmee, Vidrine says he doesn't need hype to sell a project with so many obvious attributes.
"What we try not to do is overpromise. That's the key," says Vidrine, founder and managing partner at Integrative Development Group and president of privately owned Tohoqua Master Association Inc.
Vidrine then delivers a detailed, 30-minute outline of what has happened on the 730 acres in Osceola County where ground was broken in 2016 after a long delay following the crash of 2008.
But once the economy bounced back, the developers got busy. The first models were completed in 2018 — which is an impressively accelerated pace after a fallow period.
Vidrine spoke from a fully decked-out Residents Club with a resort-style pool, a fitness center and tennis courts, among other amenities. Neptune Elementary School sits across from the community's entrance, and onsite K-8 and high schools are planned.
Playgrounds and parks are in place, too, along with trails that connect to regional networks via the adjacent Twin Oaks Conservation Area and the Florida National Scenic Trail. Nearby, similar recreation abounds thanks to the community's location between East Lake Tohopekaliga and Lake Tohopekaliga.
In addition, there are plenty of arterial roadways lined with businesses of all sorts. Neptune Road, which runs in front of the community, and Cross Prairie Parkway, which runs through it, are being expanded.
"As a master plan, what's making Tohoqua unique right now is just how much infrastructure we're putting in at first," Vidrine says. But there are also plenty of new homes with people already living them.
In mid-February, Tohoqua had 329 lots developed and approximately 200 residents. Another 250 homes were under construction and a future phase encompassing 227 lots was under development. Buildout is approximately 2,400 single-family homes — which isn't expected for years.
Mattamy Homes currently is building in Tohoqua, with Lennar Homes and Pulte Homes poised to begin soon. Mattamy is offering single-family homes and townhomes ranging in size from 1,500 to 3,400 square feet.
Best of all, the community is a great value. One of Mattamy's three-bedroom, two-bathroom single-family homes, measuring 2,187 square feet with a two-car garage, is priced at $362,555. One of its 1,528-square-foot townhomes — also with three bedrooms and two bathrooms — starts at $264,990.
Lennar is building what it calls the Cottage Collection and the Estate Collection, with the Cottage Collection targeting growing families and the more expansive Estate Collection attracting move-up buyers with open layouts and lanais.
Pulte will offer single-family and bungalow home designs as well as homes with multigeneration suites. Also, Pulte will build a 55-plus active adult community.
Vidrine says that in all, Tohoqua will offer a menu of nine different product lines encompassing roughly 30 different home styles. Prices start at about $250,000 although some could hit the high $400s and even the low $500s with add-ons.
"It's blue collar, it's white collar, it's all walks of life. It really makes for a vibrant and energetic community," he adds. "I don't know what else we could be building here right now."
Vidrine's emphasis is on right now. Looking at an area map, he points to multitude of growth spots surrounding Tohoqua. Not a hard thing to do considering that Osceola is the eighth fastest-growing county nationwide and the second-fastest in Florida.
Among the drivers of growth are the Kissimmee Medical Arts District, where both AdventHealth Kissimmee and Osceola Regional Medical Center are expanding, and NeoCity, a 500-acre tech/advanced manufacturing center. Another advantage: Florida's Turnpike, about five minutes from Tohoqua.
"This community has a lot of jobs around it. And not only that, there are a lot of jobs you can quickly drive to," Vidrine notes. "We speculated what was going to make this piece of property special and decided that it was the location — and the accessibility of the Turnpike. A buyer could ask, 'How far can I get from here in 40 minutes?'"
Suffice it to say, you can get just about anywhere in that span of time. And none of this takes into account 80 additional acres set aside for a town center. Plans call for 475,000-square-foot, mixed-use development — commercial, office and retail space — plus a 200-room hotel.
Possibly. The town center will develop based on demand from residents, who are still moving in — so Vidrine is leaving himself some wiggle room.
Clearly, though, Vidrine and his development partners have been patient, which bodes well for Tohoqua. While he acknowledges that the journey has been long, he also believes the "last 10 years have been amazing to live in Central Florida."
He's hoping to take full advantage of the timing, now and post-pandemic. Recent challenges have turned him more philosophical and reflective.
"It's about providing opportunity for people," Vidrine says. "It's about overcoming challenges and adversity. People want hope. This project took a long time to do. I want to get there. I want to make the residents happy and make my partners happy. I'm not taking a break until all this hard work is completed. I'm staying focused."
Vidrine adds that he's consumed with doing it right.
"People are moving to Florida. They're coming here, and there are a lot of them," he says. "So how do you plan effectively? It takes a lot of intentional design. That's what we're doing here. We're very methodical about step by step."
But without wasting time.