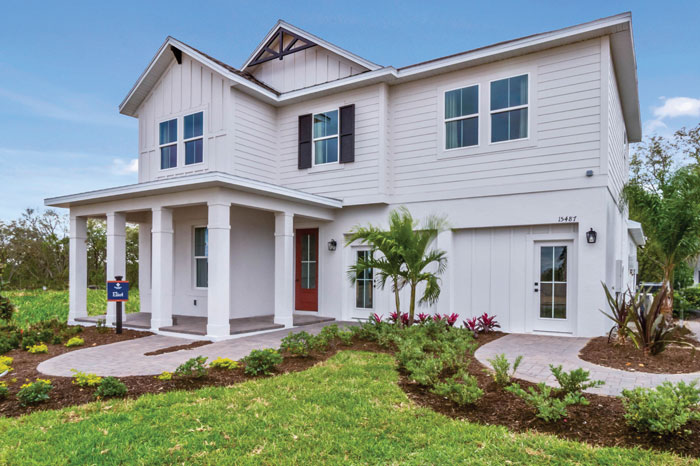 RockWell Homes has completed the Eliot plan, which has several iterations including the farmhouse design. The home, located in the Winding Bay neighborhood of the Horizon West master-planned community, is priced from $478,900 and encompasses from 2,889 to 3,081 square feet with four bedrooms, 2.5 to 3.5 bathrooms and a two-car garage. It features a chef's dream kitchen and a generous lanai for outdoor living. The floorplan has a spacious loft where three of the bedrooms are located. There's an optional en suite bathroom for a secondary bedroom and a pocket office for crafts or homework.
AN OVERNIGHT SUCCESS WHO'S BEEN WORKING AT IT FOR TWO DECADES
The late, great entrepreneur Steve Jobs was quoted as saying: "Overnight success stories take a long time." Humorist Mark Twain once wrote: "Overnight success is a fallacy. It is preceded by a great deal of preparation."
Yet, comedian/actor Eddie Cantor, an entertainment icon from 100 years ago, may have said it best: "It takes 20 years to become an overnight success."
Cantor nailed it right on the head when it comes to builder Robby Mosier and his new entry into the local market, RockWell Homes. While Mosier seemingly has emerged out of nowhere, his journey in homebuilding has extended precisely those two decades.
Growing up as a "small town, blue collar" native of Lugoff, South Carolina, Mosier started relatively low on the builder totem pole, as an internal auditor at Morrison Homes. Over the years, Mosier was moved to Denver as the company's vice president of finance.
He was controller/vice president of Standard Pacific Homes in Raleigh and Charlotte before joining Beazer Homes in Phoenix as a chief financial officer for a region that stretched from Texas to California. Beazer moved him to Charleston as a division president.
Then, Mosier ran the operation for a small, privately owned building company in Texas before taking a similar job in Minnesota. All that would certainly qualify as "a great deal of preparation," by Mark Twain's definition or anyone else's.
"I've lived all over the country," says Mosier, president of RockWell Homes, headquartered at Celebration. "And, quite honestly, there's really nothing [in the building industry] that I haven't done or been a part of."
Now, Mosier has landed in metro Orlando — sort of. His wife, Meredith, and children Jackson, 8, Joah, 6, and Johnny, almost 2, will remain in Dallas. For now, as he builds his own empire, he'll travel back and forth. But Mosier thinks the temporary inconvenience will ultimately be worth it.
"What's most rewarding is that the vision aspect of it is mine," he says. "Starting something and then seeing it all come together is something I've never experienced before. I've always executed other people's visions."
While he was helping other companies be successful, Mosier was listening and learning. "I took the opportunity in the last 20 years to find great mentors," he says, recalling long days that began at construction sites and ended at 9 or 10 p.m. behind a desk.
Mosier adds: "I'm big about understanding everything. So, I've taken the opportunity to learn all parts of the business."
With RockWell Homes, Mosier will have help from real estate financier Daniel Traylor, managing partner of Columnar Investments, which is active in sprawling Horizon West in Winter Garden. Traylor had deals in place with national builders that fell through as COVID-19 began to spread last spring, creating, according to Mosier, "a decent little pipeline to get us started."
That start is at Winding Bay in Horizon West, one of the fastest-growing master-planned communities in the country. The neighborhood will encompass 107 homes and amenities that include a resort-style pool, a splash pad, a dog park, a tot lot, a park and a cabana. The target market is first- and second-time move-up buyers.
Further, the plan calls for building relationships, both with homebuyers and trade partners. The unofficial RockWell Homes' mantra is, "We look forward to partnering with you," and the company prefers to use such designators as "neighborhood construction partner" and "neighborhood sales partner."
Mosier notes that following the economic downturn more than a dozen years ago, he saw a shift in homebuilding that largely was driven by corporate finance. He doesn't want to follow that pattern and become "all about the numbers and less about the customers." In fact, he's seeking to flip that equation.
"We want to go back to what homebuilding used to be," Mosier says. "We went to build communities; we went to build neighborhoods. And we want to build relationships with our customers and our trade partners."
That philosophy also extends to the physical composition of Winding Bay, which will emphasize the idea of neighborhood.
Says Mosier: "If you're the buyer and you literally want to pull up into your garage and never meet anybody in your neighborhood, you may not want to buy from us."
Consequently, he adds, streetscapes and wide front porches will be prominent at Winding Bay. "Some of it sounds idealistic and, yes, it's not going to be easy for us to execute as we grow," he says. "And I understand that. But it's who we want to be. We don't want to grow so big that we forget those values."
To ensure success, Mosier believes in building no more than 250 to 350 homes annually. "As the range goes up," he points out, "the leadership team running the business by necessity becomes more removed from interaction with customers and tradespeople."
That's not the way Mosier wants to operate RockWell — which doesn't mean he isn't looking forward to growth. In three to five years, he hopes to expand into other markets, likely Tampa, Austin, Dallas and Denver.
For now, though, Mosier's satisfaction is here and now.
"Oh, there's a sense of pride," he says about his first model home rising in his first community as an entrepreneur. "The sense of pride in just our website coming live, hearing people commenting about our product and seeing that first home under construction — it's a sense of pride that I've never felt before in my career."