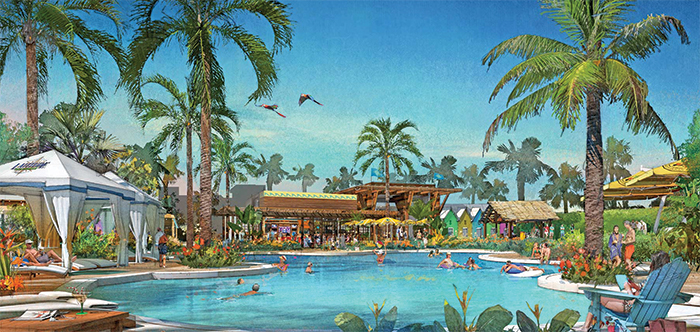 Latitude Margaritaville Daytona Beach has been named one of the 50 Best Master-Planned Communities in the United States by Where to Retire magazine. The Margaritaville-inspired lifestyle of food, fun and music is coupled with tropical resort amenities and a selection of whimsical, coastal-themed homes.
THE BEST YEARS
MANY OF TODAY'S 55-PLUS DESTINATIONS ARE SO COOL THAT THEY TAKE THE STING OUT OF AGING.
Florida wasn't the top choice for Delaware residents Jenn and Keith Russell as they scouted the U.S. in recent years for active-adult communities.
They preferred California, Las Vegas and Arizona. Sure, Florida beckoned with mild winters and low taxes — but it had its hurricanes, too. "We didn't automatically want to go to Florida and it wasn't high on the list. We wanted a certain vibe," says Jenn Russell, 52. Her husband is 63.
The hunt for retiree retreats is real — not just for the Russells but for millions of others. Florida leads the nation for 65-plus residents, and the state's share of them will grow from a quarter of the population to a third during the next decade, according to the University of Florida.
During their cross-country search, the Russells saw their share of pickleball courts, resort-style pools and shopping-center sized clubhouses. Ultimately, a glance at a billboard led them to the place they now call home.
"We were driving, and I looked up and just happened to see an I-95 billboard for Margaritaville in Daytona," Jenn Russell says. "Once we saw the social environment, we were in."
Developed by Minto Communities, Latitude Margaritaville strives for beach-party status — employing the laid-back Jimmy Buffett ethos (the singer is an investor in the development). It boasts a private beach club and has an island pool with plans for an indoor pool.
Amenities, including lawn maintenance, are covered for monthly fees of $250-$299. Home prices start in the low $200s for about 1,200 square feet of living area.
Minto Division President William Bullock says the two-year-old community is a full-time destination. "The majority of our buyers are planning to use their home at Latitude Margaritaville as their primary residence, but we do have a smaller percentage of home buyers who plan to use their home as a seasonal residence," he notes.
The Russells purchased a 1,900-square-foot home splashed with bold colors and boasting an open floorplan for $412,000 in 2019. Now, they want to move again — this time to a larger home in a new phase of Margaritaville.
It helps to have extra space when their five adult children visit. Perhaps more importantly, they wanted room for Keith's band to practice and to entertain, the couple says.
So, what drives these buyers to divest from a lifetime of belongings and seek a new start? What are builders doing to lure them? And how much will they pay? "Many retirees today were born in the 1940s, and we call them 'achievers' because they benefited from dual-income households when more women went to work outside the home," says Lesley Deutch, John Burns Real Estate Consulting managing principal.
During Spring 2020, economic concerns weighed on this group. By Winter, though, their comfort level had risen, according to a recent John Burns report on the active-adult market. Generally, they prefer to be near family and about 70 percent need home office space. They also prize outdoor living space defined by open-corner sliders and hardscape. "We never eat inside our house," says Jenn Russell.
Throughout Central Florida, price and location drive the 55-plus market. Lake County has long embraced the idea of catering to retirees. The Villages — the fastest-growing real estate development in the U.S. — started there with a big lineup of amenities (including free lifetime golf) and continues rolling out new phases.
Elsewhere in Lake County, the gated Trilogy Orlando community by Shea Homes has changed the traditional mix by offering a golf simulator instead of links. It also boasts a full menu of sports facilities, a game lounge and a multipurpose event space. Prices start at about $260,000 for a 1,540 square-foot home.
Beyond Lake County, Osceola County has raised its profile with new active-adult offerings that include Del Webb Sunbridge in St. Cloud and Pulte Homes' Tohoqua Reserve in the Kissimmee master-planned community of Tohoqua. Here's a partial list of active adult communities that are racking up sales throughout Central Florida. Suffice it to say, there's something for everyone in the 55-plus demographic:
ARLINGTON RIDGE
Lake County
4463 Arlington Ridge Boulevard, Leesburg, Fla. 34748
From the high $100s
arlingtonridgeusa.com • 352-728-1611
Arlington Ridge Homes, an affiliate of Florida Leisure Communities, took over the Trilogy retirement community in 2014. Plans call for 1,046 single-family homes, duplex villas and townhomes at build-out. Community amenities include an 18-hole championship golf course, two heated pools, a spa, a fitness center, a large hall with a theater and catering facilities, and a full-service restaurant and tavern. Group activities include social events, fitness classes and golf clinics. The community, which is gated and staffed around the clock, offers easy access to shopping and medical care, major highways, international airports and attractions. Homes range in size from 1,700 to 2,500 square feet.
CRESSWIND AT VICTORIA GARDENS
Volusia County
117 Old Moss Circle, DeLand, Fla. 32724
From the mid-$200s
kolterhomes.com • 386-873-4680
Developed by Kolter Homes, Cresswind at Victoria Gardens was founded in 2000 and is the 55-plus component of the larger Victoria Park master-planned community. Cresswind's plans call for more than 1,000 homes at build-out. Community amenities include on-site dining, pickleball, fitness centers and social spaces than can host a variety of clubs and parties. There also are experienced lifestyle directors to keep things bustling. In addition, Cresswind residents have access to all the amenities in Victoria Park, which include a golf course, a village center and a medical park. The location itself is a bonus — beaches, attractions, parks, outdoor recreation, shopping, dining, culture, universities, sports venues and top medical care are all within a 30-minute jaunt. Homes range in size from 1,500 to more than 3,500 square feet.
DEL WEBB SUNBRIDGE
Osceola County
6200 Citrus Grove Court, St. Cloud, Fla. 34771
From the mid-$200s
delwebb.com • 407-805-1930
If there's a name synonymous with active-adult living, it's got to be Del Webb, the biggest developer of active-adult communities in the U.S. In 2019, Tavistock Development Company, developers of Lake Nona, announced that Del Webb would be the first builder in its 24,000-acre Sunbridge master-planned community in northwest Osceola County. And now the gated community is up and running. Del Webb Sunbridge encompasses 700 acres and could include up to 1,350 single-family homes and villas at build-out. Under construction is a 27,500-square-foot clubhouse with state-of-the-art indoor and outdoor amenities, including a zero-entry resort-style pool. There's also a fitness center, sports courts, an events lawn, a ballroom with a performance stage, an outdoor amphitheater and a dog park. A full-time lifestyle director will make certain that buyers are as active as they wish to be. A national brand of PulteGroup Inc., Del Webb brings more than six decades of homebuilding experience to Sunbridge, which also encompasses commercial and retail centers as well as a variety of neighborhoods aimed at buyers across the spectrum — not just 55-plus. The community will incorporate best practices and place-making principles from across Tavistock's award-winning portfolio. And these folks know what they're doing. Lake Nona ranks among the best-selling master-planned communities in the U.S. and was heralded in Fortune magazine as "the future of cities." Home sizes in the Del Webb neighborhood range from 1,543 to 3,453 square feet.
ESPLANADE AT HIGHLAND RANCH
Lake County
1010 Braewood Drive, Clermont, Fla. 34715
From the mid-$200s
taylormorrison.com • 352-415-4237
Developed by Taylor Morrison, four-year-old Esplanade at Highland Ranch will have 402 homes at build-out. Community amenities geared for active adults include an on-site lifestyle director, a resort-style swimming pool with cabanas, tennis courts, bocce ball courts, a spa and fitness center, a dog park, and a clubhouse with a billiard room and a coffee bar. Single-family homes range in size from 1,772 to 3,006 square feet, and have open floorplans, outdoor living areas and gourmet kitchens.
FOUR SEASONS AT ORLANDO
Osceola County
2117 Antilles Club Drive, Kissimmee, Fla. 34747
From the mid-$200s
khov.com.fsorlando • 321-263-2627
Close to the attractions, K. Hovnanian Homes is about halfway sold out of 557 homesites at its Four Seasons community in Kissimmee. Golfers love the community because it sits inside the Mystic Dunes Resort and Golf Club, which includes an 18-hole championship golf course and a putting green. As with many 55-plus communities, a full-time activities director is available to help plan and organize functions and social events. Four Seasons has a resort-style pool, a state-of-the-art fitness center and an array of sport courts. Homes range in size from about 1,435 to 2,445 square feet.
GATHERINGS OF LAKE NONA
Southeast Orlando
7573 Laureate Boulevard, Orlando, Fla. 32827
From the high $200s
beazer.com • 321-445-5050
Beazer Homes' Gatherings of Lake Nona is the first 55-plus community in the Lake Nona master-planned community, where the company has debuted 216 low-maintenance condominiums complete with elevators and garages. A clubhouse is the center of activity, and there are plenty of amenities to keep residents fit and active. Outdoors, there's a pool and patio along with sports courts and an inviting fire pit for evening get-togethers. The clubhouse features a fitness center as well as multipurpose rooms for community gatherings and social events. If you're feeling competitive, there are courts for pickleball or bocce ball. And your furry friends will love the on-site dog park. There are four floorplans from which to choose, with two or three bedrooms, two bathrooms and attached one-car garages. Each building offers elevator access from the ground floor along with private, covered balconies. All plans feature spacious master suites with walk-in closets and bathrooms with stylish fixtures. A number of custom upgrades are available. Of course, one of Gatherings of Lake Nona's biggest selling points is its location in Lake Nona, for decades one of the region's premier addresses. It's near the burgeoning Lake Nona Town Center as well as Lake Nona's Medical City, with its new VA Hospital. Homes range in size from 1,368 to 1,805 square feet.
THE LAKES AT HARMONY
Osceola County
3306 Sagebrush Street, Harmony, Fla. 34773
From the mid-$200s
harmonyfl.com • 407-593-2285
Boomers who came of age in the '60s remember plenty of wistful talk about living in harmony. Few figured they would literally live in Harmony — a place as well as a state of being. The Lakes at Harmony, where builders include Lennar and Jones Homes USA, is a 55-plus neighborhood within the 11,000-acre master-planned community of Harmony. Homes in the gated neighborhood — all of which are one story and range in size from 1,404 to 2,874 square feet — are built with active adults in mind, boasting open floorplans and energy-efficient features. Most offer golf-course views. Residents enjoy a private clubhouse, with a zero-entry pool as well as a gathering room, a catering kitchen, a crafts area and a fitness center. A "sunset gazebo" overlooks the 14th green of the Audubon-certified Harmony Golf Course. Another plus: Lakes at Harmony residents have full access to Harmony's amenities, including, most notably, the 18-hole championship golf course and its well-appointed clubhouse and pro shop. Shopping is also convenient at the Town Square Marketplace, which features several restaurants. Harmony also has tennis, pickleball and bocce ball courts as well as a dog park and 12.6 miles of walking and biking trails. There's plenty to do in the Lakes at Harmony, with Zumba classes, themed dinners and various special-interest clubs. An on-site activities director helps organize additional social functions and other community events.
LAKES OF MOUNT DORA
Lake County
8506 Lakes of Mount Dora Boulevard, Mount Dora, Fla. 32757
From the high $100s to low $500s
pringle.com or medallionhome.com • 352-357-1019
Most homes at gated Lakes of Mount Dora are waterfront or water view, emphasizing a casual Florida lifestyle. Community amenities include an 18,000-square-foot clubhouse with a resort-style pool, a fitness studio, a library, and tennis, pickleball, basketball and bocce courts. There also are walking trails, club activities, and boat and RV storage. Of course, one of the top amenities is Mount Dora itself. Nationally recognized for its historic downtown of shops and restaurants, the picture-postcard city stays busy with festivals and other events year-round. Home sizes range from 1,263 to 3,252 square feet, and buyers can add a well-equipped summer kitchen. Many universal design elements can be incorporated with ADA-approved access, easy access light switches, smooth shower access and universal thresholds.
LATITUDE MARGARITAVILLE
Volusia County
2400 LPGA Boulevard, Daytona Beach, Fla. 32124
From the low $200s
latitudemargaritaville.com • 866-369-5426
Developed by Minto Communities and Margaritaville Holdings, the Jimmy Buffett-inspired Latitude Margaritaville began construction in November 2018. Plans call for 3,400 homes in the first phase and up to 7,000 by build-out on the 1,600-acre site. Single-family homes and villas in the community are designed for relaxing, entertaining and comfortably accommodating houseguests. They include hobby rooms and dens that can be used as home offices as well as master suites with two walk-in closets, raised-height vanities and large walk-in showers in the master baths. In addition, each has two- or three-car garages for extra storage and for golf carts — the streets are golf-cart friendly. Community amenities include, of course, a town square with a bandshell for live music and dancing. There's also a bar and restaurant as well as a fitness center with an aerobics studio, an indoor lap pool, a spa and regularly scheduled fitness classes and wellness programs. There are pickleball and tennis courts, a community pool with beach entry, cabanas, tiki huts, a poolside bar and a dog park called — "Barkaritaville."
SOLIVITA
Polk County
395 Village Drive, Kissimmee, Fla. 34759
From the low $200s
taylormorrison.com • 877-335-1543
Taylor Morrison's Solivita in the Kissimmee area is a mature brand in more ways than one. With fewer than 1,000 of its 5,600 homesites sold, the 20-year-old project is in its latter stages. The community's 4,300-acre footprint includes an array of recreation beyond the pools and clubhouses. It also has a ballroom and a two-story art studio as well as two championship golf courses: The Oaks Course, designed by Ron Garl, and The Cypress Course, originally designed by Devlin/Von Hagge and recently modified by renowned golf architect George Clifton. Solivita homes — single-family and villas with large pantries, open floorplans, gourmet kitchens and entertainment areas — range in size from 1,364 to 2,929 square feet.
TRILOGY ORLANDO
Lake County
100 Falling Acorn Avenue, Groveland, Fla. 3473
From the $260s
sheahomes.com • 352-240-7566
Shea Homes bought Trilogy Orlando from a previous builder in 2010. Today it is more than half built out with a total of 1,147 homes planned at completion. Amenities include a 57,000-square-foot clubhouse, an indoor and outdoor resort pool, a culinary studio designed for chef demonstrations and private events, a modern day "man-cave" that serves as a sports escape, an artisan studio, a state-of-the-art fitness studio and a restaurant. Hospitality-trained resort teams oversee planned activities. Homes range in size from 1,540 to 2,295 square feet.
TWIN LAKES
Osceola County
4910 Twin Lakes Boulevard, St. Cloud, Fla. 34772
From the low $200s
joneshomesusa.com • 407-988-3222
Jones Homes USA recently opened a new phase of Twin Lakes in St. Cloud. In addition to a pool, a fitness center, a putting green and a variety of other sports courts, it has a boat ramp on Live Oak Lake where residents can enjoy water sports such as kayaking, canoeing and boating. A full-time activities director will also be available on-site to help plan and organize clubs, events and classes for all residents to enjoy. Homeowners will be able to join card games or participate in holiday events and other social activities. Homes range in size from 1,270 to 3,802 square feet. There'll be about 2,000 homes at build-out.
And more communities are on the way. Coming soon is Tohoqua Reserve in Kissimmee, by Pulte Homes, which will feature an impressive amenity complex and outdoor fitness trails that connect to regional trail networks.
The 730-acre community is the first 55-plus community within family-oriented Tohoqua, a large development with a village center, new schools and a slew of other amenities.