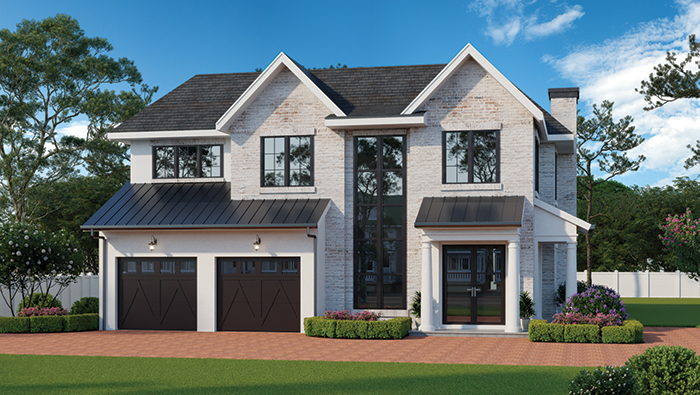 The Greens at Park is a seven-lot neighborhood in one of the region's most desirable locations (map below). Notes builder and developer Fred Schaub: "The neat part is, you can live in downtown Winter Park and get a traditional lanai, a summer kitchen and a swimming pool. And your home is within 150 feet of Park Avenue." Pictured above is one of the home designs that will be offered, although all the plans will be fully customizable.
JEWEL-BOX HOMES COMING TO THE HEART OF POSH WINTER PARK
Fred Schaub says he has been "around the block a few times" in Winter Park. Yet, when it came to Schaub's latest custom-home project, The Greens at Park, he didn't take anything for granted.
For all his area expertise, he remembered the words of a football coach from his youthful gridiron days: "There are those who are humble," the coach would tell Schaub and his teammates. "And there are those who are about to be humbled."
Schaub — who founded FG Schaub Custom Homes in 2012 after spending 23 years working for several large, national builders — has tried never to end up getting humbled. Everyone, though, has hits and misses. "You can have a good idea," Schaub says, "and it doesn't always work."
With The Greens at Park, however, Schaub figured he had a sure-fire hit. And he was right. The seven-lot community is in downtown Winter Park, on Whipple Avenue, just a rock's throw from Park Avenue. Three lots are 100 feet wide, while four others measure either 75 or 77 feet wide.
At press time, two of the lots had been sold, with construction likely underway by now. Spec-home construction was set to begin on two other lots at the same time. Prices for the custom single-family homes will range from approximately $3 million to $4.5 million — and, as you might expect, will include all the imaginable bells and whistles.
Plus, The Greens at Park will be just steps from the region's most popular and prestigious dining, retail and cultural district.
Notes Schaub: "The neat part is, you can live in downtown Winter Park and get a traditional lanai, a summer kitchen and a swimming pool. And your home is within 150 feet of Park Avenue."
As the project was being conceptualized, Laura Hope recalls early brainstorming sessions where the question was asked: "Do we really want to just do what everybody else is doing?" Hope is founder/broker of The Hope Group in Orlando, a boutique brokerage of real estate agents who represent only new construction.
"We thought, wouldn't it be great to have a single-family community where people could build whatever they wanted?" recalls Hope. "It's turned out with that location, that the buyers tend to be predominantly local. They still want significantly sized homes, but they love the walkability. There's really not a way to [compare] this because there's nothing like it."
The Greens at Park didn't happen overnight. Schaub had a working relationship with the property's previous owner, who wanted him to build a three-story, 16-unit condominium complex on a fee basis.
Schaub, however, saw an abundance of multifamily housing in the area and instead wanted to go in another direction. "I excel at single-family homes," he says. "I try to do the one thing I do best."
So, with the help of the City of Winter Park's Planning and Zoning Department, Schaub came up with a plan that he felt was marketable while meeting the city's requirements. Densities and square footages were reduced, and Schaub bought the property — located directly behind the new Park Hill townhomes — to develop himself.
That plan, by all accounts, is paying off. "The buzz has been astonishing," he says. "I was surprised that the idea was working so well. Many people don't want to leave Winter Park, but they don't want to live in a 6,000- or 7,000-square-foot home, either. And they want a single-family home — not a condo."
According to Hope, there are more than 40 active prospects so far, which bodes well for a quick sellout. "There's an extreme amount of interest," she notes, adding that there'll likely never be another opportunity to buy a new single-family home in downtown Winter Park because there's essentially no developable residential property left.
Premium community features will abound at The Greens at Park, while a small HOA will handle exterior maintenance for convenience and a unified look. Home sizes will start at approximately 3,000 square feet — and will be built by Schaub in consultation with his buyers.
While the square footage will be relatively modest, the homes won't be. Look for such goodies as elevators, all-quartz countertops, oversized two-car garages with Polyaspartic floor covering, custom glass-and-stainless-steel stair railings, transitional rooms with retractable screens, and white oak treads and risers on staircases.
Those features, among many others, have been listed as customization options. "We do not want cookie-cutter," Hope adds. "We want it to have that Winter Park flair — no two homes next to each other will look the same."
Meanwhile, the construction schedule can be best described as "expeditious." That's how Schaub likes to build. He learned the business from the ground up — no pun intended — starting in junior high school and working for his uncle in Ohio on a "different trade every summer."
He then studied civil engineering and industrial manufacturing and technology in college. "A house that builds quickly means it's well organized, and the quality level goes up," he says. "When they sit around and are slow to build, they never really turn out too well. A house is like anything else; it has kind of an energy to it. And once you get it started, you don't want it to stop."
Schaub isn't a guy who likes to stop — or even slow down — under any circumstances. Asked about what he does for fun, he responds quickly: "Build houses. I'm serious. This is what I like to do." And that's especially true when an idea works.
"The Greens at Park is one of a kind," he says. "And I doubt if they'll ever be another one of these. So I'm proud to put my name on it."