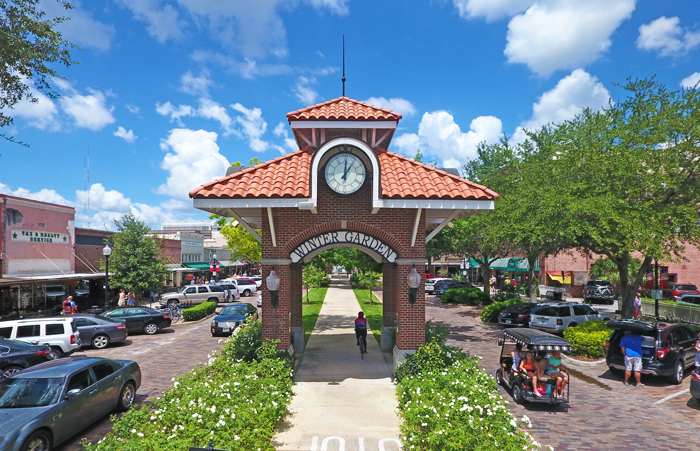 Winter Garden's Downtown Historic District combines all the charm of a vintage Florida citrus community with trendy restaurants and boutiques.
IT'S OLD FLORIDA
WINTER GARDEN HEARKENS TO THE REGION'S JUICY PAST.
Winter Garden, the northern neighbor of Horizon West, boasts a residential and commercial energy that can make nearby cities green with envy. Once a thriving center for the Central Florida citrus industry, today the city of 48,000 is a destination place for visitors, residents and businesses.
Incorporated in 1908, the city sits on the southern shore of Lake Apopka and is 20 minutes west of Orlando. "Winter Garden is a great community to both live and work," says City Manager Mike Bollhoefer. "We're the best small city in the state and the cultural and commercial capital of west Orange County."
One of the most picturesque of any in the region, the downtown district was added to the National Register of Historic Places in 1996. It covers about 100 acres in the general area of Woodland, Tremaine, Henderson and Lakeview streets. West Plant Street, which runs east and west through the district, is home to several dining and shopping choices.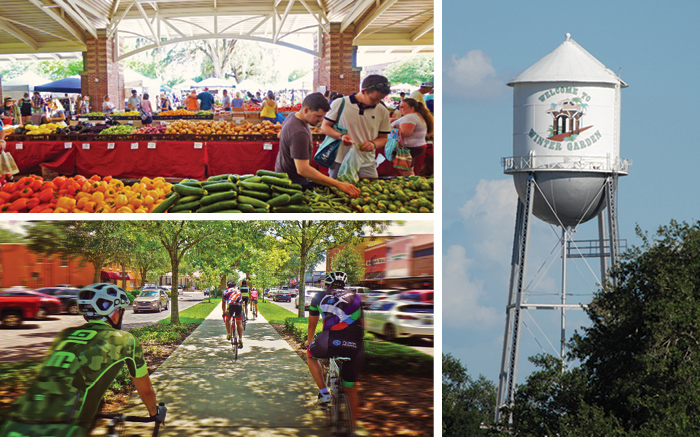 In addition, the popular Winter Garden Farmers Market sets up downtown each Saturday. It has been recognized as one of the country's best farmers markets by the American Farmland Trust. (The market continues to operate, but visitors should check its website at wintergardenfarmersmarket.com for COVID-19 rules.)
Residents of nearby Horizon West are big fans. "We love going to the Winter Garden Farmers Market on the weekends," says Jennifer Pelcher, who lives in the Bridgewater Village with her family.
Plant Street Market, housing more than 20 merchants including the popular Crooked Can microbrewery, opened in 2014 on the site of a demolished apartment complex. The market houses farm-to-table restaurants, a bakery, a butcher, a chocolatier, a wine bar and various sellers of artisanal food items.
The $2 million project extended downtown's footprint beyond City Hall and further solidified Winter Garden's reputation as a foodie's dream and as a reminder of the city's long history with agriculture.
The area's earliest settlers were primarily farmers. A year-round growing season, fertile soil and easy access to railroads serving Northern markets meant that agriculture of all varieties flourished.
As freezes began to wipe out the Central Florida's citrus industry, the area's economy became more dependent upon tourism. Winter Garden benefited from its proximity to Walt Disney World and other attractions.
But it was not animatronics, roller coasters or whales that gave Winter Garden a new identity — it was bicycles. In 1986, the non-profit Rails-to-Trails Conservancy was established to work with local governments around the country to convert abandoned railbeds into trails for walking, jogging and biking.
That lead to the West Orange Trail, a 22-mile route that runs from Oakland to Apopka — and through the heart of Winter Garden along Plant Street. The trail's Winter Garden Station, with a bike shop and rentals, restrooms, water fountains and a playground, sits just east of downtown.
Bikers and hikers routinely stop at downtown restaurants and shops for a cold drink or a bite to eat. Local boosters and businesspeople were happy to welcome the visitors, many of whom had never been to Winter Garden and were delighted by its picture-postcard ambience and its neighborly attitude.
Today, about 1.3 million people annually visit downtown Winter Garden. Among them are residents of Horizon West. "We love the downtown Winter Garden area and its quaint, small-town feel," says Sheila Bater, who lives with her husband in Hamlin.
Earlier this year the Florida Department of Environmental Protection recognized the city as the state's 10th and newest Trail Town for providing trail users with goods and services while promoting healthy lifestyles.
Winter Garden also has joined other Florida cities as members of the Coast-to-Coast Connector, a multiuse trail that will link communities between St. Petersburg and Titusville.
An icon of downtown Winter Garden is the restored Garden Theatre, a circa-1930s movie house. Now a performing-arts center, it hosts live theater, dance and musical programs as well as the annual Starlight Film Festival.
In addition, the city partnered with the Winter Garden Arts Association to convert the old Boyd Street Fire Station into a hub for visual art that now houses a gallery and a teaching facility. It's the first step toward creation of an Art and Design District, which will offer artists both living space and studio space.
The city's Heritage Foundation operates two museums: The Winter Garden Heritage Museum, located in the old Atlantic Coast Line Depot, and the Central Florida Railroad Museum, located in the old Tavares & Gulf Railroad Depot. Both museums offer free admission.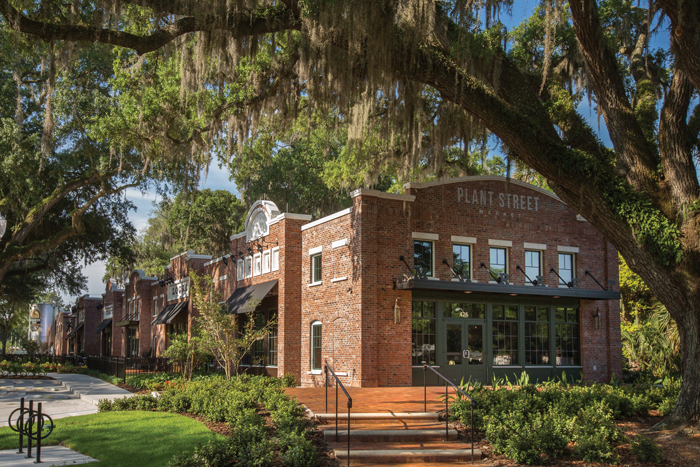 Residents and visitors looking for a special night out can visit the critically acclaimed Chef's Table at the Edgewater Hotel on Plant Street. It offers a three-course prix fixe dinner with optional wine pairings. Other dining options include Thai Blossom, Moon Cricket Grille and the Winter Garden Pizza Company.
Diners and shoppers have even more choices in the Winter Garden Village, located off Daniels Road and just northwest of S.R. 429.
Winter Garden and Ocoee, its neighbor to the east, are developing an economic corridor that connects their downtowns. Their goal is to turn a six-mile roadway, called East Plant Street in Winter Garden and West Franklin Street in Ocoee and populated by warehouses and auto repair shops, into inviting city gateways at the State Road 429 interchange.
City Manager Bollhoefer says businesses are attracted to Winter Garden because of its "high quality of life, disposable income of the residents and the fact that the future of the city looks very bright." He expects population to grow by 10,000 people in the next decade.
He also points to three other major projects:
• Dillard Street. One of the main north-south thoroughfares, it will be reconfigured from a five-lane road into a three-lane road with three roundabouts. "This will be a catalyst for significant redevelopment of the mile-long stretch of road," Bollhoefer says.

• Tucker Ranch Park. Located just west of Avalon Road south of Florida's Turnpike, the 200-acre park sits along the marshy shoreline of Johns Lake. The city opened Phase One of the park in 2018. Amenities include paved parking, restrooms, a playground, a pavilion, benches and picnic tables along with trails throughout the property. Leashed dogs are welcome on trails. Plans call for wetland and lake observation walkways next year. "This will be the first health- and wellness-focused park in the state of Florida," Bollhoefer says.

• East Winter Garden Redevelopment. In 2018 a plan was launched to redevelop this historic African-American community with the goal of creating "one Winter Garden" while adding affordable housing and encouraging new business development along Plant Street. "Our goal is not gentrification," says Bollhoefer, who adds that public spaces and recreational opportunities will also be improved.