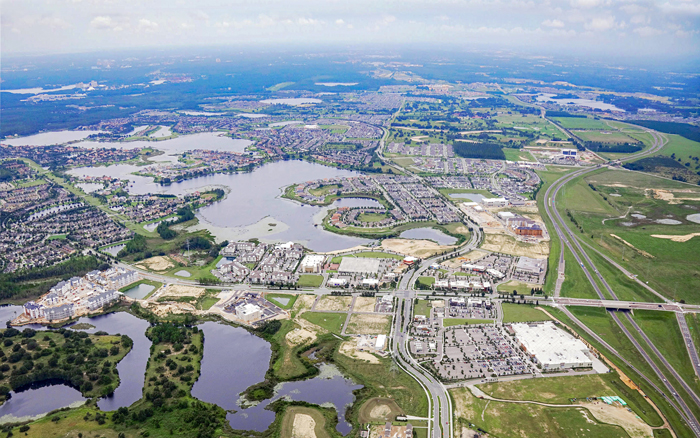 A few decades ago, a flyover of the area that now encompasses Horizon West would have yielded a view of frozen-out citrus groves. Now it's homes, businesses and schools surrounding the shimmering lakes. That's the Crooked Cat and Panther Lake golf courses to the left, part of the Orange County National Golf Center and Lodge.
FORECAST: STILL HOT
GROVES TO GROWTH: A FREEZE UNTHAWED WEST ORANGE, AND NOW FAMILIES ARE FLOCKING TO A NEW HOMETOWN.
When Jane Dunkelberger and her family relocated to Central Florida from Naples, she and husband, Warren, were looking for just the right place to live, work and raise their two children.
"I wanted to plant our roots in an area that would bring balance to our children's lives," Dunkelberger says. "We wanted to be able to take our children to local museums, theme parks and enjoy outside activities — yet not be so close to the hustle and bustle of Metro Orlando and the tourist corridor of International Drive."
In other words, she was looking for "the calm outside the madness." So, after six months of research, the family decided on Horizon West, a fast-growing master-planned region of more than 20,000 acres that developers and Orange County leaders tout as a showcase for smart residential and commercial development on a grand scale.
The unincorporated area previously consisted of flourishing orange groves. But when freezes decimated the citrus industry in the late 1980s, the undulating land, dotted with shimmering lakes, became prime for development.
Property owners in the area worked with county officials to create a master plan for the region, which was dubbed Horizon West. But there was a major obstacle to overcome. The county's land-use plan called for the vast tracts upon which groves had once flourished to remain rural, with housing limited to one unit for every 5 or 10 acres. Property now unsuitable for citrus would be unsuitable for subdivisions, too.
Without water and sewer lines, the county's theory went, developers would be forced to find land within the urban service area's boundaries, thereby minimizing sprawl.
However, builders simply leapfrogged the rural expanses of southwest Orange County and began planting subdivisions in Lake County to the west and Osceola County to the south. Many buyers of those homes worked in Orange County — so sprawl was made worse, not better, by the rural designation.
Still, owners of the then-fallow property — who formed Horizon West Inc. in 1993 — knew that to get the designation changed, they'd have to propose something more comprehensive, more carefully thought out and more cutting edge than anything county officials had seen before.
The organization hired the former land-planning firm of Miller, Sellen, Conner and Walsh to craft an approach that regulators would buy into. Then-company president Jim Sellen, who had been Orange County's planning director in the late 1970s, knew that county officials would never agree to extend the urban service area for piecemeal projects.
Sellen also knew that the county had been pushing growth east, not west, because of the University of Central Florida and the Central Florida Research Park as well as Orlando International Airport. However, he agreed that saddling played-out groves with a rural designation was counterproductive under the circumstances.
In devising a master plan for Horizon West, Sellen and his colleagues drew in part upon the pioneering work of Sir Ebenezer Howard (1850-1928), whose 1898 publication, To-Morrow: A Peaceful Path to Real Reform, described self-sufficient communities linked by road and rail. Those "garden cities" would surround a larger, central city.
But the planners also looked at current trends in New Urbanism, Disney's Celebration development being a prime local example. In addition, they studied well-established communities such as Winter Park, which remained a model for smart planning a century after its founding. Said Sellen in 2016: "What we came up with was so simple that it was powerful."
Horizon West, as it was originally envisioned, would contain six to eight Howard-style villages consisting of two to four neighborhoods. Schools and community parks would be within walking distance — a half-mile or less — of the homes, and the size of each neighborhood would be pegged to the capacity of its school.
Each village would have its own village center with such essentials as a grocery store and a drugstore. A major mixed-use town center encompassing homes, shops, offices and public areas would serve all the villages, while bicycle and pedestrian paths would line every street and connect village centers and neighborhoods to one another. Thousands of acres of green space would be preserved.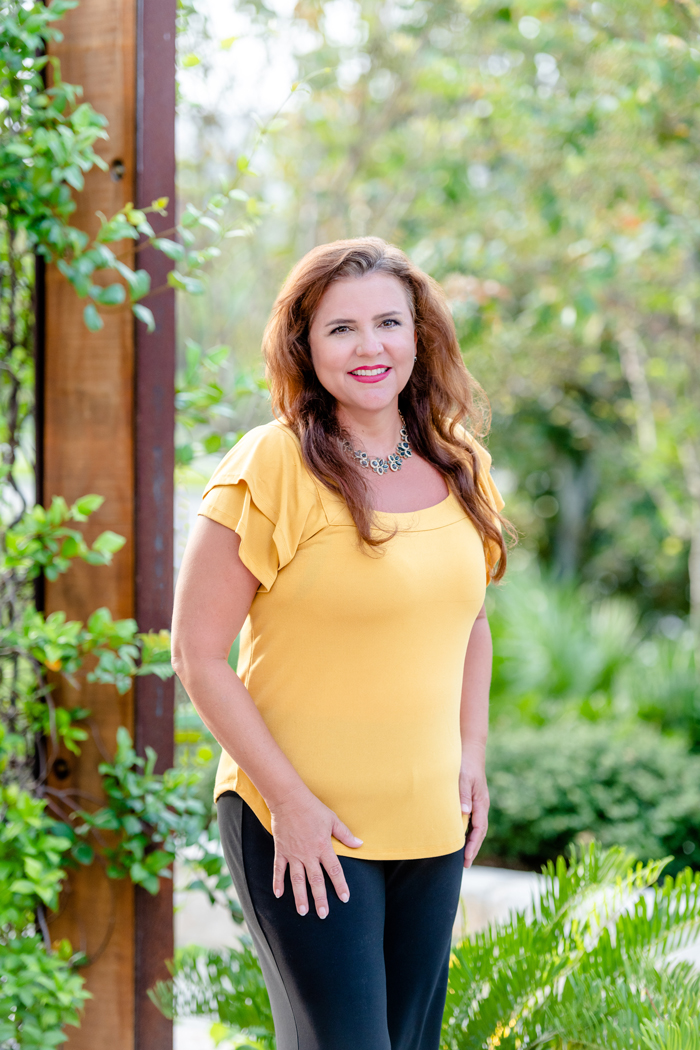 A WESTWARD STAMPEDE
The plan was approved, and buyers began making their way west, just a trickle at first and then, especially during the past five years, a flood. The Dunkelbergers moved into Lakeside, the first of six villages, in 2006. That year, the population of Horizon West was less than 7,000. Now, about 63,000 people live in about 23,000 apartments, townhomes and single-family homes in more than 30 neighborhoods.
At buildout, Horizon West could encompass more than 100,000 residents living in more than 40,000 homes of every type. That's more than three times the population of Winter Park and nearly twice the number of people who live in Apopka.
"A combination of factors has led to this part of town becoming one of the most desirable places to move, especially for families," says Kevin Merideth, director of sales, leasing and acquisitions for Boyd Development Corporation, the company behind the mixed-use Hamlin project.
Those positive elements include top-rated public and private schools, easy access to anywhere in Metro Orlando via the expressway system, proximity to Walt Disney World without having to endure stifling traffic congestion, and a large assortment of parks and trails to enjoy the outdoors.
Between 10,000 and 12,000 newcomers have been moving into the Horizon West area every year for the last five-plus years, according to Boyd Development. Today, about 42 percent of new-home construction permits being issued in Orange County are for homes being built in Horizon West — which represents only 4 percent of the county's land area.
For example, in September 2019 the county issued 176 construction permits for new single-family homes. Of those, 97 permits, or 55 percent, were in Horizon West. For multifamily permits, 64 percent were in Horizon West. Townhouse permits accounted for 25 percent.
In Florida, only The Villages, the massive retirement community located mostly in Sumter County, and Lakewood Ranch, a master-planned community in Sarasota and Manatee counties, are growing faster than Horizon West, which is generally defined as bordered on the east by S.R. 535, the north by Tilden Road, the south by Walt Disney World and the west by the Orange County/Lake County line.
And it's a charmingly cohesive place despite its size, and despite the sometimes-confusing fact that residents may have Winter Garden, Windermere or Orlando addresses. There are Horizon West networking groups, book clubs, sports leagues and business groups. The Horizon West Alliance, a volunteer advocacy group of residents, is always finding new ways to create connectivity
"Horizon West has seen rapid growth over the last five years, making it one of the fastest growing areas in the United States," says Orange County Commissioner Betsy VanderLey, whose district includes Horizon West. "Our challenge has been to provide infrastructure at a pace appropriate to that growth. We welcome all of the new Floridians to our community."
Among those feeling welcomed was Jennifer Pelcher and her family — which included her husband, Steve, and their sons, Jaxon and Brycen — who moved to Horizon West from Rochester, New York, in 2013.
"Living here allows us to not only enjoy the theme parks, but we have downtown Orlando a short drive away," says Pelcher, who owns and operates Abbott's Frozen Custard in Hamlin's town center. "We enjoy being close to the tourist attractions without living in the tourist area."
Pelcher also appreciates the neighborhood amenities. The family enjoys bike rides on the paths and trails that crisscross the area as well as the playgrounds and events such as neighborhood movie nights, food truck nights and themed events at the community pool.
Both the Pelcher boys attend Summerlake Elementary, which opened this year in Bridgewater Village. "It's in our neighborhood, so it's great that the kids are able to ride bikes now rather than ride the bus," Pelcher says.
Sheila Bater, another resident and business owner, moved to Horizon West eight years ago from North Carolina with her husband, Matt. In July 2019 they opened Hotworx, a 24-hour infrared fitness studio in the town center.
Residents of Hamlin, they also love biking and appreciate the beautiful landscaping that highlights the community. And being so near, yet so far, Disney World also has its perks: "Watching the Disney fireworks from our house is a nice touch."
Obviously, living so close to the attractions appeals to many. Another advantage is living in a self-contained community where most public services and essential commercial activities are nearby.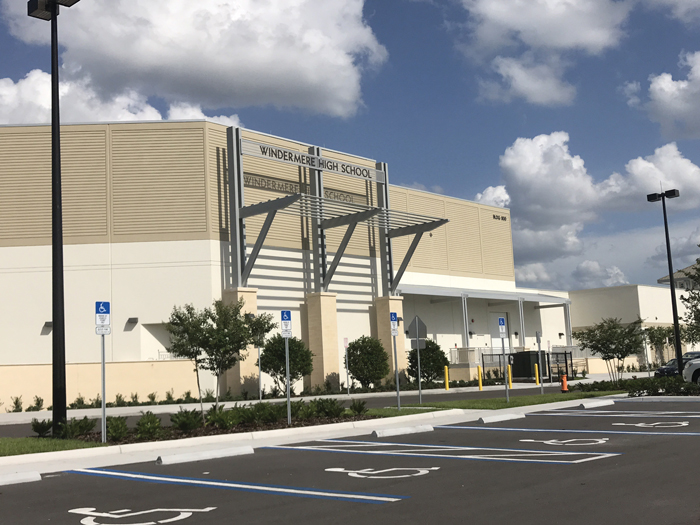 HEALTH AND EDUCATION
The Horizon West area is served by two premier hospitals, Health Central Hospital, operated by Orlando Health, and AdventHealth Winter Garden. There are also numerous urgent-care facilities.
Orlando Health has opened an emergency room and medical pavilion on a 74-acre campus near S.R. 429 and Porter Road. Scheduled to open in early 2021 is a six-story, 214,000-square-foot hospital with 103 beds as well as an onsite laboratory and outpatient imaging services.
In 2015, AdventHealth opened a 97,000-square-foot hospital in Winter Garden that features a state-of-the-art emergency department, imaging equipment, lab facilities and an outpatient surgical center as well as rehabilitation and sports medicine services. And in May 2019, AdventHealth opened a 72,000-square-foot medical office building next to the facility in Winter Garden.
In addition to an expanding healthcare scene, educational opportunities are more abundant than ever in southwest Orange County. The area is home to highly rated public and private elementary and secondary schools as well as Valencia College's bustling 180-acre West Campus. Valencia owns a parcel in the town center for future expansion.
Although Horizon West is served by many public schools, perhaps none have been more needed than new high schools. Windermere High School opened in 2017 at S.R. 535 and Ficquette Road. The 350,000-square-foot high school relieved crowding at West Orange High School.
Another high school is under construction on Seidel Road and will open in August 2021 for grades 9-11. The first senior class will graduate in 2023. This school will relieve overcrowding at Windermere High.
Sunset Park Elementary has been open since 2007. Independence Elementary opened in August 2015, while Bay Lake Elementary opened in 2016 in the Lakeside Village area. Two new elementary schools opened in 2019. They are Castleview in Lakeside and Water Spring in Village H (Hickory Nut). In addition, Horizon West Middle School in Lakeside opened in 2019 and Summerlake Elementary opened in Summerlake in August 2020.
The high school in Village F, currently known as Site 113-H-W-4, will open in August 2021. The Orange County School District plans to open 19 new schools by 2028, seven of them in Horizon West.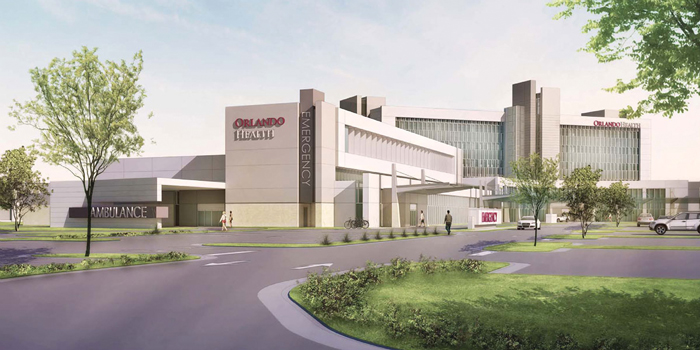 RURAL AMBIANCE, URBAN AMENITIES
Southwest Orange County has always been both rural and urban. It's wealthy and middle-class. It's defined by internationally known attractions and picture-postcard small towns. It's forward looking and steeped in history. And, of course, it's dotted by shimmering lakes — more than 200 of them — along with pristine natural areas where wildlife still thrives.
Today southwest Orange County is also a regional shopping and dining mecca. For example, Central Florida's famed "Restaurant Row" stretches along Sand Lake Road near the upscale Mall at Millenia, with its world-class department stores — Macy's, Bloomingdale's and Neiman Marcus — and premium boutiques.
Southwest Orange County is also home to much of Walt Disney World, including the Magic Kingdom, Disney Springs and Epcot as well as Disney's resort properties and its four championship golf courses.
Universal Orlando Resort and SeaWorld Orlando are also in southwest Orange County as are major shopping destinations such as the Winter Garden Village at Fowler Groves and West Oaks Mall.
The sector encompasses three incorporated areas, Winter Garden, Windermere and Oakland. Windermere proper is nestled on an isthmus between several lakes on the Butler Chain, which includes lakes Butler, Tibet, Down, Sheen, Louise and Chase as well as Pocket Lake, Lake Blanche, Wauseon Bay, Lake Isleworth and Little Fish Lake.
Few areas of Central Florida are more beautiful and unspoiled than the parks and preservation areas found in southwest Orange County. The Tibet Butler Preserve, for example, contains more than four miles of interpretive hiking trails and elevated boardwalks radiating from the Vera Carter Environmental Center, which features wildlife exhibits and hosts a special environmental studies series for fifth graders.
The Oakland Nature Preserve encompasses 128 acres of natural shoreline on Lake Apopka, Florida's third-largest lake. The boardwalk to Lake Apopka is the centerpiece, offering dramatic views along the lakeshore.
The preserve's Green Trail is a loop off the boardwalk through a shady oak hammock. And its Uplands Trail is a network of short pathways through the sandhills that connect to the West Orange Trail.
EASY ACCESSIBILITY
Also key to the area's appeal is its convenient transportation network. In addition to S.R. 429, which opened in 2005, interchanges and local roads have been completed to make getting in and out of Horizon West a breeze.
The New Independence Parkway interchange (Exit 15) was created when New Independence Parkway was extended from S.R. 429 east for nearly a mile to Schoolhouse Pond Road, which leads to the community of Independence. A four-lane road, Hamlin Groves Trail, parallels S.R. 429. It originated at New Independence Parkway and runs south to Summerlake Park Boulevard, which leads to the community of Summerlake.
These roads jump-started development of Hamlin, a major component of the 3,700-acre town center, by creating easily accessible tracts for big-box commercial development.
Recently completed is a 1.5-mile extension of Hamlin Groves Trail north and then east, where it wraps around the SportsPlex and connects to Tiny Road near the entrance to the community of Orchard Hills.
The extension will help accommodate traffic that new commercial development around the interchange — including a Walmart Supercenter and a Publix Supermarket — will generate.
About two miles to the south on S.R. 429, another interchange was opened at Schofield Road (Exit 13). That interchange, which marks the southern boundary of the town center, is about six miles north of Western Way, which leads to the Magic Kingdom and Disney World.
But the biggest transportation news impacting Horizon West is the announcement of Wellness Way, a western extension of New Independence Parkway through a vast undeveloped tract between the town center and U.S. Highway 27 in Lake County.
A partnership between Hamlin honcho Boyd Development and other landowners along the Wellness Way corridor is building the 5.5-mile-long road, which currently ends at Avalon Road west of S.R. 429.
The road's completion will take three years and at least $15 million to build and will enable other developers to potentially build at least 16,000 homes. That's a lot of new customers for businesses in and around Hamlin — and an easy way for them to get there.
In short, Horizon West, in addition to being a self-contained community rich with its own amenities, has the added advantage of a location squarely in the center of Central Florida's most dynamic and exciting region.
THE RIGHT DECISION
After 15 years, Dunkelberger's family of four knows they made the right decision to move to Horizon West. For most residents, however, those growing pains are part of the journey.
"To understand what's coming and to know what this area will become balances the growing pains of being a part of something new," says Dunkelberger.
She adds: "The southwest area of Orange County still has much growth to enjoy, with more schools, shops, services and roads to come. I'm excited to know that we're paving the way for others, and to see what our post-pandemic story will look like."
---
PUBLIC SCHOOLS
ELEMENTARY SCHOOL
• Village of Bridgewater
• Keene's Crossing Elementary (Opened in 2009)
• Independence Elementary (Opened in 2015)
• Summerlake Elementary (Opened in 2020)
• Lakeside Village
• Bay Lake Elementary (Opened in 2016)
• Sunset Park Elementary (Opened in 2007)
• Castleview Elementary (Opened in 2019)
• Village H (Hickory Nut)
• Water Spring Elementary (Opened in 2019)
MIDDLE SCHOOL
• Village of Bridgewater
• Bridgewater Middle (Opened in 2007)
• Lakeside Village
• Horizon West Middle (Opened in 2019)
High School
• Village of Bridgewater
• Windermere High (Opened in 2017)
• Village H (Hickory Nut)
• Site 113-H-W-4 (Opening in 2021)
Source: Orange County Public Schools
---
IT TAKES A VILLAGE (OR PERHAPS SIX)
Horizon West's master plan organizes each village around a village center and its larger neighborhoods around an elementary school.
Lakeside Village: 5,202 acres, established in 1997: Located in the eastern part of Horizon West, Lakeside is home to a variety of retail businesses and restaurants. The village includes the communities of Lakes of Windermere, Oasis Cove, Windermere Trails and Mabel Bridge.
Village of Bridgewater: 4,223 acres, established in 1999: At the heart of Bridgewater is Summerport Village, with an array of retail centers and restaurants. The neighborhoods of Summerport, Independence and Summerlake are in Bridgewater, which is in the northeast section of Horizon West.
Hamlin Town Center: 3,624 acres, established in 2004: In the western section of Horizon West, the Town Center is home to the largest commercial area, which includes a Walmart Supercenter and a movie theater. The Hamlin development and its growing Lake District are made up of residential and commercial sections. Eventually, Hamlin will have nearly 2 million square feet of mixed-use commercial space.
Village F: 2,551 acres, established in 2006: Home construction is underway, but commercial development has not yet started. Located in the southeast area of Horizon West, this section will be home to a new high school and a village center developed by Unicorp Development.
Village H: Hickory Nut, 2,975 acres, established in 2006: In the southwest section of Horizon West, this will be home to a future elementary school and middle school. Its neighborhoods are Waterleigh and Storey Grove. Plans for a village center have not been announced.
Village I: 129 acres, established in 2008: At the southern tip of Horizon West, there's not yet any building here. Columnar Investments will develop most of Village I.