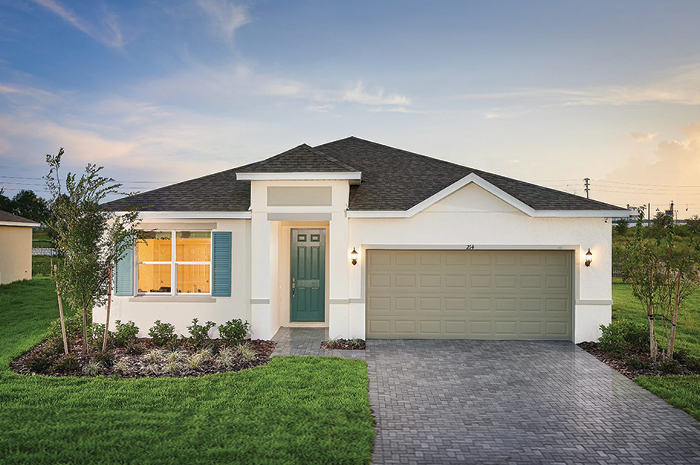 Park Square Homes' single-family Imagine model at Tarpon Bay in Haines City targets first-time homeowners. There's ceramic tile in all living areas, too, such as hallways and the great room as well as the kitchen and dining areas. Kitchens boast white or gray 42-inch cabinets with granite countertops and stainless-steel appliances.
PARK SQUARE THRIVES BY MAKING BUYING EASY AND HOMES AFFORDABLE
Even with housing construction maintaining strength in 2020, not many builders would introduce a plan centered on the word thrive. Certainly not in a pandemic, right? Park Square Homes did so — literally.
Conceiving the idea just before COVID-19, social distancing and mandatory masking shaped a new reality, the company introduced Thrive in August, with new single-family models in Haines City at Tarpon Bay. Prices started at $234,990.
"We've targeted first-time homeowners, those who've been renting for a long time," explains Kelly Thomas, director of sales and marketing at Park Square Homes. "We've come up with a more affordable housing product that we can get those buyers into. For them, this means 'It's your time to thrive.'"
A few more numbers: 1,520 to 2,210 square feet; three to five bedrooms; two and three bathrooms; two-car garages; and 62-foot lots instead of the more typical 50 feet for homes in this price category.
The concept of Thrive, though, is more about scope than size, with the goal of attracting $250,000-and-under buyers focused on five fundamental characteristics: Simple. Efficient. Stylish. Smart. Quick.
Simple, as in a scaled-down process with support that continues from discovery and selection to qualification and closing, according to Thomas, who described the approach as "every step of the way."
And talk about Efficient. Buyers get HVAC equipment with a 16-SEER rating, along with low-E windows to help reflect summer sunlight and LED light fixtures that use up to 90 percent less power than regular light bulbs.
As for Stylish? How about this: Kitchens boast white or gray 42-inch cabinets with granite countertops as well as stainless-steel appliances. The same goes for 13-inch ceramic tile walls in bathroom showers. There's ceramic tile in all living areas, too, such as hallways and the great room as well as the kitchen and dining areas. A spacious master suite comes with a walk-in closet.
Smart doesn't get short shrift, either. SmartCode deadbolts and SkyBell doorbells that enable remote lock control and monitoring. Similarly, a Z-Wave thermostat can adjust system temperature settings from anywhere in the world. Two Z-Wave switches program lighting, entertainment and home accessories.
That leaves Quick. The Thrive process is designed to deliver a new home in as few as 60 days. Homes aren't released for sale until their construction has started. And there's a quick-step financing process with Park Square Homes Mortgage.
"We're not just building shelter. We wanted to take it a step further and still have it be an affordable home — make it a home that you would be proud to say was built in 2020," Thomas says. "And we wanted to have the homes move-in ready. All they have to do is show up."
Kelli Belfatto, senior marketing manager, adds: "Everything is there, and it's part of the price."
Tarpon Bay, planned for a total of 370 homes in three phases and also encompassing townhomes and estate homes by other builders, offers a wide array of amenities.
Developed by the Feltrim Group, the community is designed with a nautical theme, including several water features plus a clubhouse and pool, playground and cabana, and picnic area and dog park, among other features. And the community's entry can fairly be described as elaborate, highlighted by a fountain/trellis entryway with a tower.
"It looks like you're going into a very high-end neighborhood," Belfatto commented.
The Feltrim Group was founded in the Orlando area in 1996 by Irish entrepreneur Garrett Kenny to build and manage homes for international buyers and investors. During the past 20 years, the firm has built and sold more than $700 million worth of property.
For Park Square Homes, Tarpon Bay is a start under the Thrive banner. Next is a community called Woodbury in Mascotte, planned for 2021 and priced from the low $200s. Also, the company is always on the lookout for land that will accommodate such pricing.
Says Thomas: "Our whole goal is to keep that affordable under-$250,000 mark, where we were a couple of years ago. Now, what was a $250,000 home has jumped to $300,000 or $350,000 for your average new single-family home in this market.
"This really is the opportunity for us to create magical memories for this buyer profile — and give them the dream of homeownership."